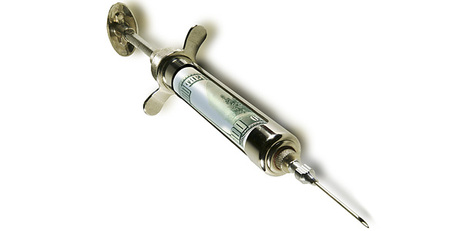 A clever image, but is it apt, since the article claims doctors are extracting money, rather than injecting it? Source of image: online version of the NYT article quoted and cited below.
If patients paid for their own care, doctors would have a greater incentive to improve overall care that is valued by patients. The perverse incentives of the current government Medicare reimbursement rules would be gone.
One main lesson from the article below is to show how fundamentally hard it is for the government to get the incentives right: they tried to re-jigger the reimbursement rules, but the law of unintended consequences once again bit them in their collective ass (or more accurately, alas, it bit us).
(p. C1) When Medicare cracked down two years ago on profits that doctors made on drugs they administered to patients in their offices, it ended a windfall worth hundreds of thousands of dollars a year for each physician.

The change, which mainly affected drugs to treat cancer and its side effects, had an immediate effect. In all, cancer doctors billed about $4.4 billion for chemotherapy and anemia medications in 2005, down from $5.6 billion in 2004, with Medicare covering 80 percent of the bills in each year. The difference mostly represented profit that doctors had made on the drugs.

But the change did not reduce overall federal spending on cancer care, which increased slightly. And cancer doctors say the change did nothing to reduce a larger problem in cancer treatment.

Some physicians say that cancer doctors responded to Medicare's change by performing additional treatments that got them the best reimbursements, whether or not the treatments benefited patients. Those doctors also say that Medicare's reimbursement policies are responsible.

"The system doesn't value the time we spend with patients," said Dr. Peter Eisenberg, a cancer doctor in Greenbrae, Calif., and a former director of the American Society of Clinical Oncology. "The system values procedures."

The ballooning cost of cancer treatment, one of Medicare's most expensive categories, offers a vivid example of how difficult it may be to rein in the nation's runaway health care spending without fundamentally changing the way doctors are paid.

. . .

(p. C6) Now, oncologists are lobbying Medicare officials and members of Congress to reverse some of the changes and again raise the prices the government pays for drugs.

But Dr. Robert Geller, who worked as an oncologist in private practice from 1996 to 2005 before leaving to become senior medical director at Alexion, a biotechnology company, said that increasing drug reimbursement might raise oncologists' profits but would not relieve the system's deeper flaws.

As long as oncologists continue to be paid by the procedure instead of for spending time with patients, they will find ways to game the system, however much money they make or lose on prescribing drugs, he said.

"People go where the money is, and you'd like to believe it's different in medicine, but it's really no different in medicine," Dr. Geller said. "When you start thinking of oncology as a business, then all these decisions make sense."
For the full story, see:
ALEX BERENSON. "A Stubborn Case Of Spending On Cancer Care." The New York Times (Tues., June 12, 2007): C1 & C6.
(Note: ellipsis added.)
Source of graph: online version of the NYT article quoted and cited above.