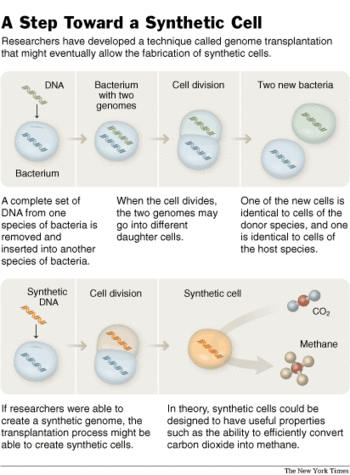 Source of graphic: online version of the NYT article quoted and cited below.
Scientists at the institute directed by J. Craig Venter, a pioneer in sequencing the human genome, are reporting that they have successfully transplanted the genome of one species of bacteria into another, an achievement they see as a major step toward creating synthetic forms of life.

Other scientists who did not participate in the research praised the achievement, published yesterday on the Web site of the journal Science. But some expressed skepticism that it was as significant as Dr. Venter said.

His goal is to make cells that might take carbon dioxide out of the atmosphere and produce methane, used as a feedstock for other fuels. Such an achievement might reduce dependency on fossil fuels and strike a blow at global warming.

"We look forward to having the first fuels from synthetic biology certainly within the decade and possibly in half that time," he said.

Richard Ebright, a molecular biologist at Rutgers University, said the transplantation technique, which leads to the transferred genome's taking over the host cell, was "a landmark accomplishment."

"It represents the complete reprogramming of an organism using only a chemical entity," Dr. Ebright said.

Leroy Hood, a pioneer of the closely related field of systems biology, said Dr. Venter's report was "a really marvelous kind of technical feat" but just one of a long series of steps required before synthetic chromosomes could be put to use in living cells.
For the full story, see:
NICHOLAS WADE. "Pursuing Synthetic Life, Scientists Transplant Genome of Bacteria." The New York Times (Fri., June 29, 2007): A1 & A18.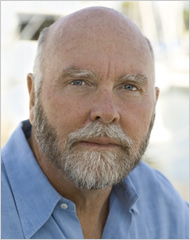 J. Craig Venter. Source of photo: online version of the NYT article quoted and cited above.