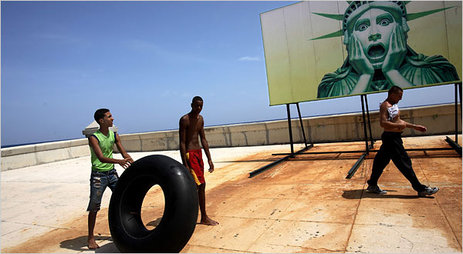 Lady Liberty is rightly aghast at life in Havana. Source of photo: online version of the NYT article cited below.
My friend Luis Locay has warned me in the past to be sceptical of articles that express optimism about Raul Castro being a friend of the free market. One such article is excerpted below. (I am hoping Luis is wrong.)
Raúl Castro has taken several small but meaningful steps over the last year that suggest that he wants to open up Cuban society and perhaps move to a market-driven system, without ceding one-party control, not unlike what has happened in China. During the 1990s, he supported limited private enterprise and foreign investment, reforms his brother reversed four years ago.

. . .

On the economic front, Raúl Castro has allowed the importation of televisions and video disc players. He has told the police to let pirate taxis operate without interference. He pledged to spend millions to refurbish hotels, marinas and golf courses. He even ordered one of the state newspapers to investigate the poor quality of service at state-controlled bakeries and other stores.

Perhaps his most important step, however, was to pay the debts the state owed to private farmers and to raise the prices the state pays for milk and meat. Cubans still live on rations and cope with chronic shortages of staples like beef. Salaries average about $12 a month, and most people spend three-quarters of their income on food, according to a study by Armando Nova González, an economist at the Center for the Study of the Cuban Economy in Havana.

"What a person makes is not enough to live on," said Jorge, a museum guard who asked that his last name not be used because he feared persecution. "You have to resort to the black market to get along. No, not just to get along, to survive." He said he and his wife together made about $30 a month, just enough to support their family of four.

But Raúl Castro has disappointed many Cubans who had expected significant changes once he took power. He has always deferred to his brother, and he seems to lack the political power to take major actions until Fidel either gives up total control or dies, experts on Cuba said.
For the full story, see:
JAMES C. McKINLEY, Jr. "Cuba's Revolution Now Under Two Masters." The New York Times (Fri., July 27, 2007): A3.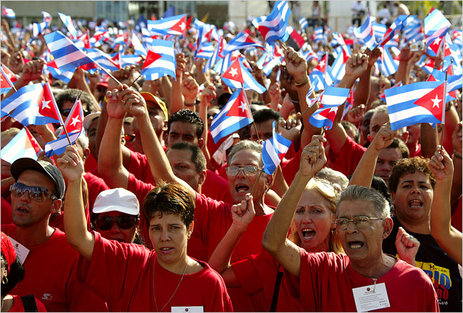 The top photo shows Raúl Castro giving the annual speech celebrating the Cuban revolution. (Fidel Castro became ill after the previous year's speech.) The lower photo shows the reaction to Raúl's speech from the crowd.