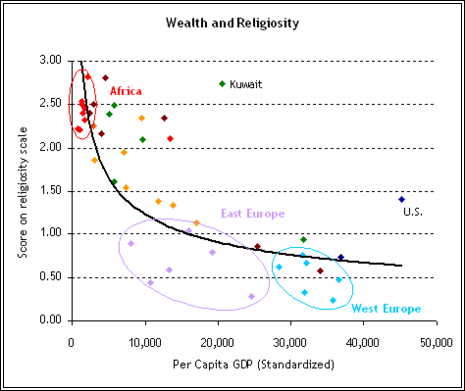 Source of graph: Pew Global Attitudes Project report summary cited below.
I ran across the graph above while looking for other information at the Pew site. The graph is consistent with my belief that science contributes to economic prosperity, and that science and religion are in conflict.
But of course many questions can be raised, such as: how did they measure religiosity?
Here is there answer to that question:
Religiosity is measured using a three-item index ranging from 0-3, with "3" representing the most religious position. Respondents were given a "1" if they believe faith in God is necessary for morality; a "1" if they say religion is very important in their lives; and a "1" if they pray at least once a day.
Source:
"World Publics Welcome Global Trade — But Not Immigration." Pew Global Attitudes Project, a project of the PewResearchCenter Released: 10.04.07 dowloaded from: http://pewglobal.org/reports/display.php?ReportID=258