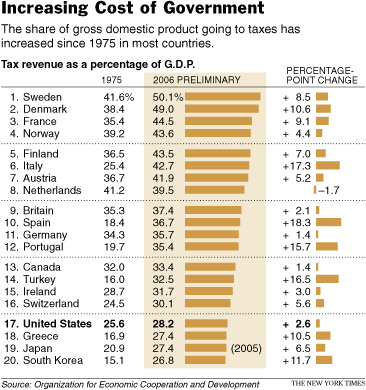 Source of graph: online version of the NYT article quoted and cited below.
(p. C3) After dipping briefly in the first years of this decade, taxes are growing again around the world, the Organization for Economic Cooperation and Development said yesterday.

Taxes in 2005 equaled the previous peak year of 2000, the organization said, when by one measure 36.2 percent of gross domestic product in 30 industrial countries, including the United States, went to taxes at all levels of government.

The organization, which is based in Paris, said that when final figures are in for 2006, they will most likely show a new peak.

The report defines taxes as "compulsory, unrequited payments to general government."

The cost of government has risen by about 20 percent since 1975, when taxes accounted for less than 30 percent of the gross domestic product of the organization's member countries.

. . .

Taxes in the United States — from the federal income tax and Social Security tax to local property levies — rose to 28.2 percent in 2006, from 25.6 percent of gross domestic product in 1975, the O.E.C.D. said. It reported that American taxes peaked at 29.9 percent in 2000, slipped to 26 percent in 2004 and then began rising again, a finding consistent with recent statistical tables released by the Internal Revenue Service.
For the full story, see:
DAVID CAY JOHNSTON. "Taxes in Developed Nations Reach 36% of Gross Domestic Product." The New York Times (Thurs., October 18, 2007): C3.
(Note: ellipsis added.)