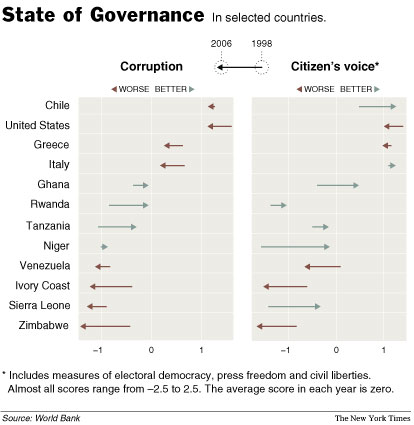 Source of graph: online version of the NYT article quoted and cited below.
(p. A6) Africa, often stereotyped as a place of epic corruption and misrule, emerges in a World Bank report as a continent of great variety, with some countries — Tanzania, Liberia, Rwanda, Ghana and Niger — making notable progress over the past decade, and others — Zimbabwe, Ivory Coast and Eritrea — moving backward.

The report, released yesterday and based on the most comprehensive data on governance in more than 200 countries, found that not just poor countries struggled with corruption and flawed government.

. . .

The report, "Governance Matters, 2007: Worldwide Governance Indicators 1996-2006," was written by Mr. Kaufmann and the World Bank researchers Aart Kraay and Massimo Mastruzzi. It was posted on the Internet at www.govindicators.org. Data came from an ideologically diverse array of groups that included Freedom House, Transparency International, the Heritage Foundation, Reporters Without Borders and the State Department.

"This is the best data source on governance now," said Steven Radelet, a senior fellow at the Center for Global Development, a Washington research group. "It is of huge importance in development. Ten years ago, there was no data. Fifteen years ago, we didn't talk about this stuff."

. . .

The report found that the gains and losses balanced out such that the average quality of governance worldwide over the past decade was little improved.
For the full story, see:
CELIA W. DUGGER. "World Bank Report on Governing Finds Level Playing Field." The New York Times (Weds., July 11, 2007): A6.
(Note: ellipses added.)