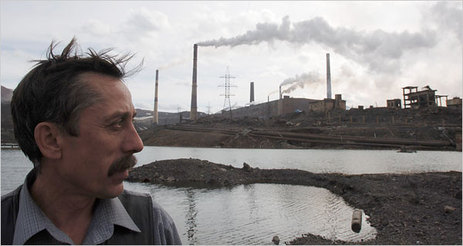 Vladimir Stratyev in front of a lake containing nickel dust from the nickel factory in the background. Source of photo: online version of the NYT article quoted and cited below.
(p. A4) NORILSK, Russia — A former Siberian gulag with a population of about 210,000, this decrepit city has some of the worst air quality in the world. It is surrounded by dead trees, as far as the eye can see, poisoned by acid rain.

But to Vladimir M. Stratyev, the eye-stinging haze is an unalloyed blessing, for Mr. Stratyev is, in effect, a miner of air pollution. For him the smog of Norilsk is a mother lode.

The smelters here produce one-fifth of all the world's nickel, a key alloy of stainless steel, while emitting 1.9 million tons of sulfur dioxide a year, more than the entire country of France. They also spew out 10,800 tons of heavy metal particulates.

. . .

Spotting a business opportunity, factory officials have brought in a contractor, Poligon, to extract the metals from one of these deposits, known euphemistically as "technogenic sources of ore."

Mr. Stratyev, the supervisor of a mining crew, uses a dredge and bulldozer to scoop up the black sludge, rich in nickel that once fell from the sky. He gathers it in mighty piles from a large pond that lies directly downwind from the smelters and returns it to the factory from which it came.

"They should put a monument up to us," Mr. Stratyev said, standing in front of the dredge he just used to mine air pollution from the bottom of a pond. "We're solving an ecological problem."

. . .

The pollution mining began five years ago, according to Aleksandr I. Korolev, a deputy chief engineer at the factory. "It's a year-round operation," Mr. Korolev said of the work, which has accelerated recently because of high metals prices. "The pond does not freeze," he said, because of the chemicals and the inflow of warm effluent from the factory.
For the full story, see:
ANDREW E. KRAMER. "NORILSK JOURNAL; For One Business, Polluted Clouds Have Silvery Linings." The New York Times (Thurs., July 12, 2007): A4.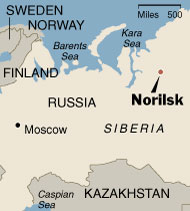 Source of map: online version of the NYT article cited above.