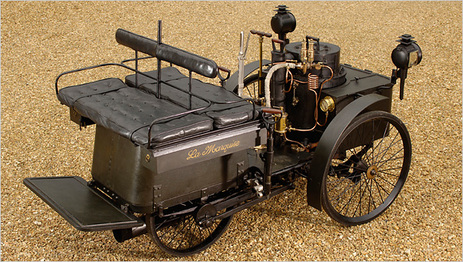 When LaMarquise was made in 1884, only the very rich could afford to buy a car. Source of photo: online verison of the NYT article quoted and cited below.
(p. 11) David Burgess-Wise, a writer and automotive historian who closely examined La Marquise for Automobile Quarterly in 1995, said that some older steam-powered conveyances existed, but either they were no longer running or had not been designed as automobiles — that is, as relatively compact four-wheel machines that were not trucks, intended to carry people.

When the count lured Georges Bouton and Charles-Armand Trépardoux to make automobiles in Paris in 1882, the latter were turning out miniature steam engines and mechanical toys. The partners experimented with tricycles, then turned out two four-wheelers with vertical boilers, front drive and rear steering. They looked like coffee pots on perambulator wheels.

Then, in 1884, La Marquise was constructed with a much shorter boiler of concentric rings (like Russian nesting dolls, Mr. Burgess-White noted) and two cylinders beneath the floor driving close-set rear wheels via locomotive cranks. Water was carried in a tank under the seat, and coke or coal was kept in a square bunker surrounding the boiler. Coke was withdrawn through drawers at the bottom and poured down a pipe in the center of the boiler onto the fire beneath.

. . .

The company produced sales brochures in 1886 with illustrations of a steam phaeton, dog cart, truck, carriage and 18-seat bus. By 1889 you could buy a tricycle for 2,800 francs ($540) or a quadricycle for 4,400 francs ($850). But that was a prince's ransom at a time when a French laborer might make five francs a day. Only the very rich could buy a motorized vehicle.

As a result, only about 30 De Dion steamers were made, Mr. Burgess-Wise estimated, including 20 tricycles, 5 quadricycles and a few larger carts and carriages.

Mr. Moore said he thought there may have been only four quadricycles, two of which remain. Six tricycles are known to still exist, but none are operable.
For the full story, see:
PAUL DUCHENE. "COLLECTING; For Sale: '84 Model. Runs Great." The New York Times, SpotsSunday Section (Sun., August 19, 2007): 11.
(Note: ellipsis added.)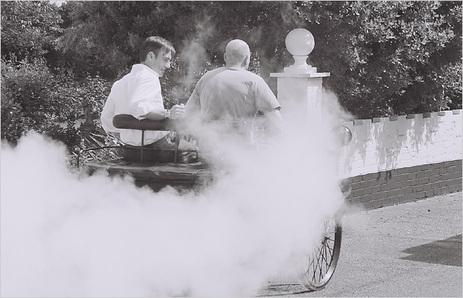 Soon to be former owner Tim Moore (right) takes David Gooding for a characteristically steamy ride. Source of photo: online verison of the NYT article quoted and cited above.