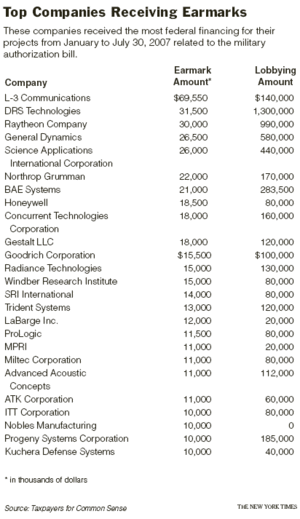 Source of table: online version of the NYT article quoted and cited below.
(p. A1) WASHINGTON, Nov. 3 — Even though members of Congress cut back their pork barrel spending this year, House lawmakers still tacked on to the military appropriations bill $1.8 billion to pay 580 private companies for projects the Pentagon did not request.

Twenty-one members were responsible for about $1 billion in earmarks, or financing for pet projects, according to data lawmakers were required to disclose for the first time this year. Each asked for more than $20 million for businesses mostly in their districts, ranging from major military contractors to little known start-ups.

The list is topped by the veteran earmark champions Representative John P. Murtha, a Pennsylvania Democrat who is the chairman of the powerful defense appropriations subcommittee, and Representative C. W. Bill Young of Florida, the top Republican on the panel, who asked for $166 million and $117 million respectively. It also includes $92 million in requests from Representative Jerry Lewis, Republican of California, a committee member who is under federal investigation for his ties to a lobbying firm whose clients often benefited from his earmarks.

The House speaker, Nancy Pelosi, requested $32 million in earmarks, while Steny H. Hoyer, the majority leader, asked for $26 million for projects in the $459.6 billion defense bill, the largest of the appropriations bills that go through Congress.

As promised when they took (p. A27) control of Congress in January, House Democratic leaders cut in half from last year the value of earmarks in the bill, as they did in the other 11 agency spending measures. But some lawmakers complained that the leadership failed to address what it had called a "culture of corruption" in which members seek earmarks to benefit corporate donors. Earmarks have been a recurring issue in recent Congressional scandals, most recently the 2005 conviction of Representative Randy Cunningham, Republican of California, for accepting bribes from defense contractors.

"Pork hasn't gone away at all," said Representative Jeff Flake, Republican of Arizona, an earmark critic who cites the "circular fund-raising" surrounding many of them. "It would be wonderful if this was a partisan issue, with Republicans on the right side, but it is really not. Many of these companies use money appropriated through earmarks to turn around and lobby for more money. Some of them are just there to receive earmarks."

Congressional earmarks are for programs that are not competitively bid , and the Bush administration has complained that they waste taxpayer dollars and skew priorities from military needs, like the wars in Iraq and Afghanistan and the global war on terror.

Thomas E. Mann, a Congressional scholar and senior fellow at the Brookings Institution, though, sees the costs of earmarks as less of a problem than their potential for abuse.

"The fiscal fallout of earmarks is trivial," he said. But they can lead to "conflicts of interest, the irrational and unconstructive allocation of resources, or their use by Congressional leaders as carrots and sticks to buy votes for larger measures that clearly lack majority support on the merits."
For the full story, see:
MARILYN W. THOMPSON and RON NIXON. "Even Cut 50 Percent, Earmarks Clog Military Bill." The New York Times, First Section (Sun., November 4, 2007): 1 & 27.