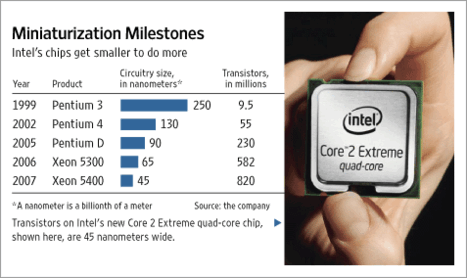 Source of graphic: online verion of the WSJ article quoted and cited below.
(p. B7) A fundamental shift in chip-manufacturing technology is bearing its first fruits: a collection of Intel Corp. microprocessors that is getting impressive early reviews.

Intel's latest chips, being formally announced today at an event in San Francisco, were built with new manufacturing materials. Intel is building key portions of transistors in the chips from a material called hafnium instead of silicon dioxide, an industry mainstay since the 1960s.

"It's one of the biggest changes in the last 40 years," said David Perlmutter, senior vice president and general manager of Intel's mobility group.

. . .

It shrinks circuitry dimensions to 45 nanometers, or billionths of a meter, from 65 nanometers. The new materials for making transistors, meanwhile, can increase their switching speeds by more than 20% while reducing their power consumption by about 30%, Intel estimates.
For the full story, see:
DON CLARK. "Intel Shifts From Silicon To Lift Chip Performance." The Wall Street Journal (Mon., November 12, 2007): B7.
(Note: ellipsis added.)