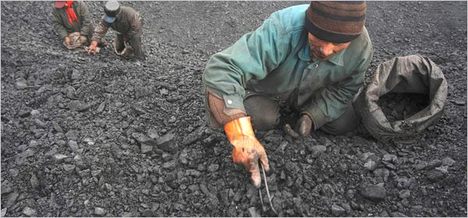 "Looking for usable coal at a cinder dump in Shanxi Province in China. Inadequate coal in the north limited power production." Source of the caption and photo: online version of the NYT article quoted and cited below.
The article quoted below uses the word "tariff" in the sense of "price."
(p. C4) HONG KONG — The Chinese government issued an "urgent notice" on Wednesday to the country's power generators, coal companies and railways to address an electricity shortage that has led to rationing in more than a third of China's provinces in recent weeks.
The rationing, mostly achieved by telling factories that their power will be shut off for a day or two each week, coincides with the annual frenzy of factory production to meet orders before shutting down for the Chinese New Year holidays, which fall in early February this year.
. . .
Power executives and government statements attributed the electricity shortfall this winter to a confluence of problems. Many of the problems appear to have their roots in the government's imposition of a long list of price controls in recent months in an attempt to tamp down inflation, which reached 6.9 percent at the consumer level in November.
Trucks did not deliver adequate coal stockpiles to power plants before winter snows arrived in northern China, partly because of nationwide diesel shortages. Refiners had cut back on the production of diesel because price controls were forcing them to sell the diesel for slightly less than the cost of the crude oil needed to make it.
. . .
Low electricity tariffs, particularly for residential users, have been another problem.
The central government issued an official "suggestion" to provincial governments last fall that they not allow increases in electricity tariffs charged to customers, as part of national price controls.
Provincial governments have responded by freezing tariffs, and even reducing them in the case of Guangdong Province in southeastern China, the home of much of the country's export-oriented light industry.
The low tariffs have made it uneconomical for oil-fired plants to operate, and many have stopped doing so.
"It makes absolutely no sense for anyone to run a diesel- or oil-fired plant. They're all shut down," said a power company executive in China who asked not to be identified because of the sensitivity of commenting on regulatory policies.
The executive added that even when ordered by the government to resume operating at a loss, many state-owned oil-fired plants had not done so, scheduling maintenance and repairs instead.
For the full story, see:
KEITH BRADSHER. "Pinched by Price Controls, Power Plants in China Scale Back." The New York Times (Thurs., January 24, 2008): C4.
(Note: ellipses added.)