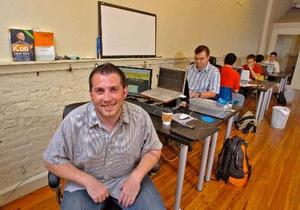 "Web entrepreneur Alex Hillman got together with a group of work-at-home businesspeople to create a hip space to work in Philadelphia." Souce of caption and photo: online version of the Omaha World-Herald article quoted and cited below.
(p. 1D) "I always felt an obligation to the coffee shop. I was taking up precious space," Hillman said. "I was definitely drinking more coffee than I should have, so I wasn't sleeping."

Even before he left his job, he had begun to learn about co-working, not to be confused with job-sharing, where two people take turns in the same stall in the cube farm.

Instead, think of co-working as an entrepreneurial version of parallel play, with owners of their own small businesses working side by side in a drop-in place that looks like a coffee cafe, minus the barista, with all the accoutrements of what's hip: high ceilings, beer fridge, pool table and Internet access.

Paying as little as $175 a month, they mostly work on their own. But they also trade ideas, help solve problems, and move in and out of loose collaborations.

Today's technology — wireless access, cell phones, BlackBerries and laptops — makes a mobile work force possible.

"I think when people work at home they have to come up with new ways to interact with people," said Daniel H. Pink, one of the first authors to write about independent contractors in his 2001 book "Free Agent Nation."
For the full story, see:
THE PHILADELPHIA INQUIRER. "Workplace; A step up from working in pj's." Omaha World-Herald (Monday, September 17, 2007): 1D & 2D.
The refererence to the Pink book is:
Pink, Daniel H. Free Agent Nation: How America's New Independent Workers Are Transforming the Way We Live. New York: Warner Business Books, 2001.