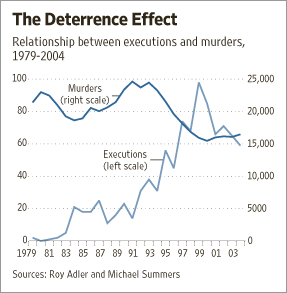 Source of graph: online version of the WSJ commentary quoted and cited below.
(p. A13) Recent high-profile events have reopened the debate about the value of capital punishment in a just society. This is an important discussion, because the taking of a human life is always a serious matter.
Most commentators who oppose capital punishment assert that an execution has no deterrent effect on future crimes. Recent evidence, however, suggests that the death penalty, when carried out, has an enormous deterrent effect on the number of murders. More precisely, our recent research shows that each execution carried out is correlated with about 74 fewer murders the following year.
For any society concerned about human life, that type of evidence is something that should be taken very seriously.
The study examined the relationship between the number of executions and the number of murders in the U.S. for the 26-year period from 1979 to 2004, using data from publicly available FBI sources. The chart nearby shows the number of executions and murders by year.
For the full commentary, see:
ROY D. ADLER and MICHAEL SUMMERS. "Capital Punishment Works." The Wall Street Journal (Fri., November 2, 2007): A13.