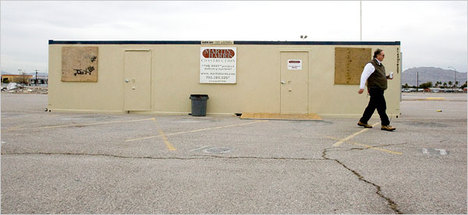 "It may not look like much, but the opening of this casino, for one day only, let its owner keep a crucial zoning designation." Source of the caption and photo: online version of the NYT article quoted and cited below.
(p. A11) For eight hours on Tuesday, Station Casinos opened a nondescript 40-by-10-foot trailer on a vacant 26-acre plot about six miles east of the Strip with just 16 slot machines. The sole purpose was to comply with a state law that requires public gambling to occur on a property for at least one shift every two years in order for the landowner to retain the valuable zoning designation needed to conduct wagering.
. . .
As of midday, nobody but reporters had turned out for the event, which had been publicized by only a few bloggers on the Internet. The biggest payout on the bank of video poker and blackjack machines was $2.50.
. . .
The opening of the nameless temporary casino, which the local newspaper dubbed Trailer Station, was rich in red tape, including seven permits, approvals from the City Council and the Nevada Gaming Control Board, and a certificate of occupancy.
As required by the city code, the trailer, brought onto the land just for the day, came complete with a portable toilet outside and, to comply with the Americans With Disabilities Act, a wheelchair-accessible entrance. A casino floor manager sat at one end of the narrow room ready to pay out winnings should there be any, a security guard patrolled outside, and two city zoning officers visited for 20 minutes to inspect and fill out paperwork.
For the full story, see:
STEVE FRIESS. "If This Happens in Vegas, It Can Sure Stay in Vegas." The New York Times (Weds., January 9, 2008): A11.
(Note: ellipses added.)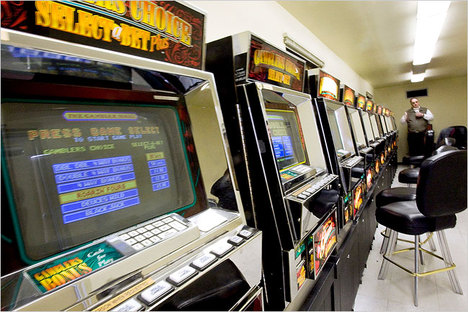 "A floor manager watched over 16 slot machines Tuesday, but there was hardly a rush on them." Source of the caption and photo: online version of the NYT article quoted and cited above.