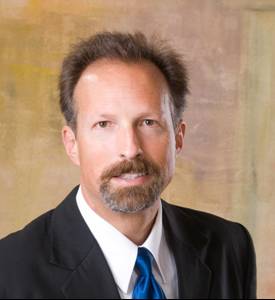 Medical entrepreneur Tom Harold. Source of photo: http://www.scyfix.org/management.php
(p. 1D) ScyFix, a Chanhassen, Minn., startup, has developed a device it claims treats diseases such as glaucoma and macular degeneration by shooting electric currents into the eye. The company, which is conducting clinical trials in India and the United States, hopes to sell the first device approved by the Food and Drug Administration designed to restore eyesight.
"To me, this is the pacemaker for the eye," said Dr. Darrell DeMello, ScyFix president and a former executive at Boston Scientific Corp.
ScyFix hopes to eventually raise $60 million to $70 million to finish its clinical trials.
. . .
(p. 2D) Thomas Harold first came up with the idea for ScyFix in 2002. An Internet entrepreneur and a former executive at General Mills, Harold became interested in studies that showed electricity could restore sight. Drugs, however, could only slow the effects of some diseases.
. . .
Specifically, the studies showed electricity could stimulate the production of neurotrophins, a family of proteins that can instruct optic nerve, retinal neurons and photoreceptor cells not to die. In addition, neuromodulation can also repair cell membranes, allowing cells to absorb nutrients, release wastes, improve blood flow to the eye and rewire faulty nerve connections.
Working with doctors and engineers, Harold, who has no medical background, developed a device that releases low-intensity electric currents into the eyelids through electrodes. A complex mathematical equation programmed into the device controls the amount and frequency of the electricity. Patients can administer the treatment at home twice a day for 20 minutes.
Harold says he is encouraged by the results so far: Since 2002, the device has halted progression of diseases in 95 percent of the 1,000 patients tested in 29 countries, according to ScyFix.
"Everything stopped getting worse," Harold said. "That was a win in itself."
In addition, 80 percent of the patients reported vision improvement. There were no side effects, the company said.
For the full story, see:
Lee, Thomas (The Star Tribune). "'Pacemaker' for eyes shows initial promise." Omaha World-Herald (Sunday, March 9, 2008): 1D & 2D.
(Note: ellipses added.)
Below I have pasted a couple of paragraphs from the ScyFIX web site. Note that Europeans are free to try the therapy, if they so desire. But citizens of the United States are not free to try the therapy, due to the regulations of the Food and Drug Admininstration (FDA) of the U.S. government.
Buy ScyFIX 600 and Accessories on-line!
Welcome to ScyFIX international web shop where you can order products, choose payment method, including a secure on-line credit card payment service (SSL), and check your delivery status on-line. Buying on-line is safe and easy and you will be guided all the way. All prices are in € (Euro). Place your order and your credit card company will convert the amount in € to your own currency. We accept Visa, Master Card, EuroCard and most bank cards connected to VISA or Master Card. Follow the instructions to take you through the pages, and then onto a secure site in which you will input your credit card and shipping details. When bank authorization has been attained, you will get a confirmation on-line, as well as a confirming e-mail. If at any stage you wish to change your order, just click the "Remove"-button.
Please note that ScyFIX can not ship devices to US addresses, until the ongoing FDA trials have resulted in an approval to market the product in the USA. US customers who mistakenly order and pay for a therapy kit over the web, will be contacted and refunded. However, ScyFIX will deduct 100€ (Euros) covering banking fees and handling costs. If you are a US resident and want to know more about our therapy, please send an inquiry by e-mail to our European office support@scyfix.org, or fill in your personal information in our Clinical Trial & Purchase Interest Form by clicking here www.scyfix.org/clinical_trial_form.htm.
The paragraphs were accessed on 3/9/08 from:
http://www.scyfix.org/shop/