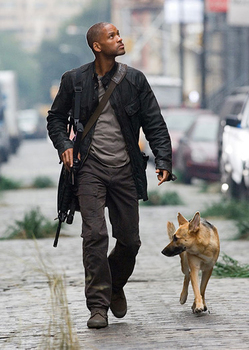 Will Smith in I Am Legend. Source of photo: http://blogs.bet.com/news/newsyoushouldknow/?p=1398
Will Smith's remake of Charleton Heston's The Omega Man, is a pretty good movie. It shows a lone scientist struggling to cure a terrible disease in a world where he has lost almost everything that he valued. The Will Smith character exemplifies the motto of the marines: semper fi.
But I think I still like the Heston version a bit better, even though its special effects are dated, and Heston may have been a bit old for the role.
Why, then? After some thought, I think there is one main reason I like the Heston version better: the villains in The Omega Man, have ideas, while the villains in I Am Legend are subhuman, idealess vampires. The battle of good against evil in The Omega Man is both physical and intellectual, and that makes it easier to care more deeply about the outcome.
Still, I Am Legend is a good movie, showing a heroic man's lonely struggle to remain true to his mission.
(And his canine companion should have received some sort of award too.)
(p. 2E) West Point, N.Y. (AP) — Will Smith wasn't nominated for an Oscar this year, but his role in "I Am Legend" has earned a different "academy" award — from the cadets at the U.S. Military Academy.
Smith was named the first winner of the Cadet Choice Movie Award, de­signed to honor the character that best per­sonifies West Point leadership qualities on the silver screen.
For the full story, see:
"People; Cadets vote Will Smith a winner." Omaha World-Herald (Mon., Feb. 25, 2008): 2E.