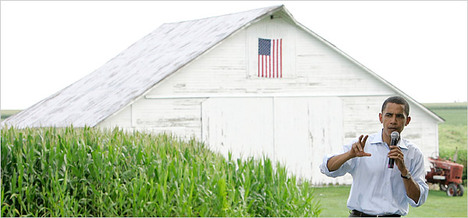 "Senator Barack Obama last July in Adel, Iowa. His strong support of ethanol helped propel him to his first caucus victory there." Source of caption and photo: online version of the NYT article quoted and cited below.
(p. A1) When VeraSun Energy inaugurated a new ethanol processing plant last summer in Charles City, Iowa, some of that industry's most prominent boosters showed up. Leaders of the National Corn Growers Association and the Renewable Fuels Association, for instance, came to help cut the ribbon — and so did Senator Barack Obama.

Then running far behind Senator Hillary Rodham Clinton in name recognition and in the polls, Mr. Obama was in the midst of a campaign swing through the state where he would eventually register his first caucus victory. And as befits a senator from Illinois, the country's second largest corn-producing state, he delivered a ringing endorsement of ethanol as an alternative fuel.
Mr. Obama is running as a reformer who is seeking to reduce the influence of special interests. But like any other politician, he has powerful constituencies that help shape his views. And when it comes to domestic ethanol, almost all of which is made from corn, he also has advisers and prominent supporters with close ties to the industry at a time when energy policy is a point of sharp contrast between the parties and their presidential candidates.
. . .
(p. A19) Many economists, consumer advocates, environmental experts and tax groups have been critical of corn ethanol programs as a boondoggle that benefits agribusiness conglomerates more than small farmers. Those complaints have intensified recently as corn prices have risen sharply in tandem with oil prices and corn normally used for food stock has been diverted to ethanol production.
For the full story, see:
LARRY ROHTER. "Obama Camp Closely Linked With Ethanol." The New York Times (Mon., June 23, 2008): A1 & A19.
(Note: ellipsis added.)