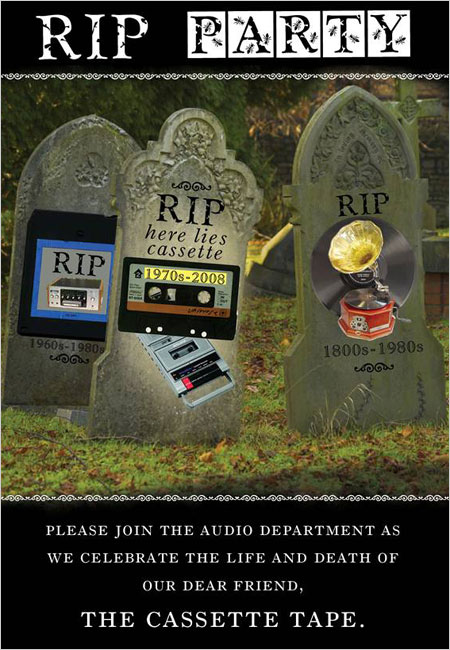 "Hachette's audio department recently held a "funeral" for cassette tapes; an invitation is above." Source of caption and photo: online version of the NYT article quoted and cited below.
The article quoted below mentions a feature of new "leapfrog" technologies that has received too little attention. The new product, overall, for most purposes, or for most important purposes, is better than the old product, but it may be that the new product lacks some features that the old product had, that had value. It is a step forward in most respects, but not in all respects.
I salute the observation in the last quoted paragraph below. When I am listening to a book, while walking Willy, some UPS truck often passes me, noisily making a sentence of two inaudible. If I'm listening to a cassette, I can back up a few sentences. If I'm listening to a CD, I have to back up at least a few minutes, and often many minutes (depending on how short the tracks are on the CD).
I remember an early word processor (can't remember its name, maybe it was Wordmarc), that allowed you to type in the page number of a long document and then go directly to that page. I am currently writing a book using Microsoft Word. And in the vast majority of respects it is better than the word processor of yore. But every time I have to scroll and scroll and scroll, to get to a page, when I already know exactly which page I want, I irrationally curse Bill Gates.
Addendum posted 10/10/08:
Since this post was created on July 30, 2008, I have discovered that Word 2007 has the feature that I missed from Wordmarc, and I also learned that if I had invested more time in Word 2003, I might have discovered that by drilling down to an obscure option menu, it too could have been customized to have had the feature. (In Wordmarc the feature was real obvious.)
(p. C7) There was a funeral the other day in the Midtown offices of Hachette, the book publisher, to mourn the passing of what it called a "dear friend." Nobody had actually died, except for a piece of technology, the cassette tape.

While the cassette was dumped long ago by the music industry, it has lived on among publishers of audio books. Many people prefer cassettes because they make it easy to pick up in the same place where the listener left off, or to rewind in case a certain sentence is missed. For Hachette, however, demand had slowed so much that it released its last book on cassette in June, with "Sail," a novel by James Patterson and Howard Roughan.
The funeral at Hachette — an office party in the audio-book department — mirrored the broader demise of cassettes, which gave vinyl a run for its money before being eclipsed by the compact disc. (The CD, too, is in rapid decline, thanks to Internet music stores, but that is a different story.)
. . .
Cassette tapes' tendency to hiss — and to melt in the summer and snap in the winter — turns off audiophiles. But for audio books, the cassette is an oddly elegant medium: you can eject it from your car, carry it home and stick it in a boombox, and it will pick up in the same place, an analog feat beyond the ability of the CD.
For the full story, see:
ANDREW ADAM NEWMAN. "Say So Long to an Old Companion: Cassette Tapes." The New York Times (Mon., July 28, 2008): C7.
(Note: ellipsis added.)