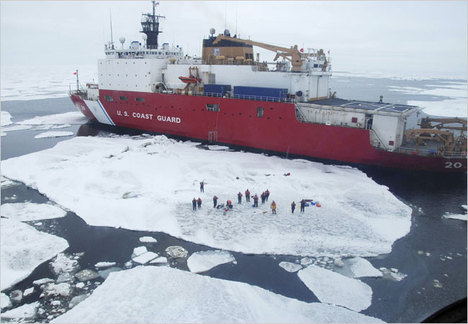 "The Healy, shown in May 2007 in the Bering Sea, is an ice-breaking ship used mainly for science." Source of caption and photo: online version of the NYT article quoted and cited below.
(p. 6) A growing array of military leaders, Arctic experts and lawmakers say the United States is losing its ability to patrol and safeguard Arctic waters even as climate change and high energy prices have triggered a burst of shipping and oil and gas exploration in the thawing region.

The National Academy of Sciences, the Coast Guard and others have warned over the past several years that the United States' two 30-year-old heavy icebreakers, the Polar Sea and Polar Star, and one ice-breaking ship devoted mainly to science, the Healy, are grossly inadequate. Also, the Polar Star is out of service.
And this spring, the leaders of the Pentagon's Pacific Command, Northern Command and Transportation Command strongly recommended in a letter that the Joint Chiefs of Staff endorse a push by the Coast Guard to increase the country's ability to gain access to and control its Arctic waters.
In the meantime, a resurgent Russia has been busy expanding its fleet of large oceangoing icebreakers to around 14, launching a large conventional icebreaker in May and, last year, the world's largest icebreaker, named 50 Years of Victory, the newest of its seven nuclear-powered, pole-hardy ships.
Adm. Thad W. Allen, the commandant of the Coast Guard, who toured Alaska's Arctic shores two weeks ago with the homeland security secretary, Michael Chertoff, said that whatever mix of natural and human factors is causing the ice retreats, the Arctic is clearly opening to commerce — and potential conflict and hazards — like never before.
For the full story, see:
ANDREW C. REVKIN. "A Push to Increase Icebreakers in the Arctic." The New York Times, First Section (Sun., August 17, 2008): 6.