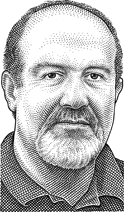 Taleb on left; Spitznagel on right. Source of images: online version of the WSJ article quoted and cited below.
(p. C1) For most of October, it seemed nearly everything that could go wrong with the markets did. But the rout turned into a jackpot for author and investor Nassim Nicholas Taleb.

Mr. Taleb last year published "The Black Swan," a best-selling book about the impact of extreme events on the world and the financial markets. He also helped start a hedge fund, Universa Investments L.P., which bases many of its strategies on themes in the book, including how to reap big rewards in a sharp market downturn. Like October's.
Separate funds in Universa's so-called Black Swan Protection Protocol were up by a range of 65% to 115% in October, according to a person close to the fund. "We're discovering the fragility of the financial system," said Mr. Taleb, who says he expects market volatility to continue as more hedge funds run into trouble.
A professor of mathematical finance at New York University, Mr. Taleb believes investors often ignore the risk of extreme moves in the market, especially when times are good and volatility is low, as it was for several years leading up to the current turmoil. "Black swan" alludes to the belief, once widespread, that all swans are white — a notion that was proven false when European explorers discovered black swans in Australia. A black-swan event is something that is highly unexpected.
Assets under management at Universa have neared $2 billion since the fund launched early last year with $300 million under management. While Mr. Taleb frequently consults with Universa's traders, the Santa Monica, Calif., fund is owned and managed by Mark Spitznagel, who worked for several years in the 1990s as a pit trader on the Chicago Board of Trade.
For the full story, see:
SCOTT PATTERSON. "October Pain Was 'Black Swan' Gain." The Wall Street Journal (Mon., NOVEMBER 3, 2008): C1 & C3.
For my enthusiastic review of the Taleb book, see:

Diamond, Arthur M., Jr. "Review of the Black Swan: The Impact of the Highly Improbable." Journal of Scientific Exploration 22, no. 3 (Fall 2008): 419-22.