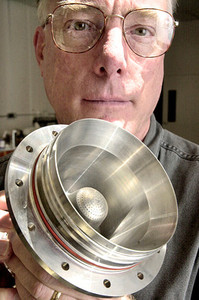 "Jim Benson" Source of caption and photo: online version of the WSJ obituary quoted and cited below.
(p. A10) "A number of people had told me they wanted to start space businesses," Mr. Huntress says, "but they always wanted government money. Jim said he didn't want any government money. He just wanted the opportunity to compete. That got my attention."

Mr. Benson, who died Oct. 10 at age 63 of a brain tumor, put it directly: "If we're going to space to stay, space has to pay."

He thought he'd found a business model. "We offer FedEx-like package delivery rides," he proclaimed in 1999. He imagined getting customers like NASA itself and the armed forces, as well as scientists and industry. Always looking for an angle, he also envisioned a more terrestrial use for his rockets: sending a package from San Jose, Calif., to Taipei in 20 minutes.

With organizational ability he developed at software start-ups in the 1980s, Mr. Benson assembled a team of mostly young engineers plus some NASA veterans and set to work. To avoid high development costs, he used off-the-shelf technologies and designs. He quickly landed several contracts, including one from the University of California at Berkeley for ChipSat, a small satellite built for carrying scientific instruments to study interstellar gas. It cost $7 million to build — peanuts in space bucks — and has continued to function since its 2003 launch.
For the full obituary, see:
STEPHEN MILLER. "REMEMBRANCES; Jim Benson (1945 – 2008); Rocket Man Ran a Proper Business, But Loftiest Plans Were Ill-Starred." The Wall Street Journal (Sat., OCTOBER 18, 2008): A10.