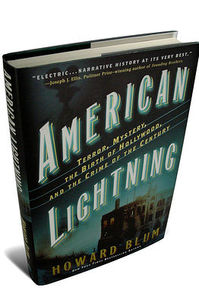 Source of book image: online version of the WSJ review quoted and cited below.
(p. A23) The turn-of-the-20th-century war of capital and labor is not even half-remembered now. But the glum slab of the Los Angeles Times building will remind anyone who cares to look. The antiunion rallying cry of "True Industrial Freedom" is carved deeply into its façade. Completed in 1935, the building is a cenotaph for the 21 nonunion pressmen and linotype operators who were blown up on an early October morning in 1910 and died in a storm of fire and collapsing masonry.

The dynamiting of the Los Angeles Times was, for Howard Blum in "American Lightning," the war's decisive engagement. After it, a national campaign of union-led terrorism was exposed; labor sympathizers who defended the bombers were proved to be gullible (if not dishonest); and the political force of American socialism was wrecked. Reputations were wrecked, too, principally that of Clarence Darrow, who was then a renowned labor lawyer.
. . .
In 1910, Los Angeles was a young boomtown aching for water and respectability. To the owner of the Los Angeles Times, Harrison Gray Otis, respectability included making sure that the city was uninfested by union labor. It was an era of deep enmity and suspicion between business and labor, when it was not uncommon for strikes to end in riots and death. Otis and the Times preached the open shop with such vehemence that it was almost inevitable that they would become targets of prounion wrath.
The dynamite conspiracy unraveled when a second, unexploded bomb in Los Angeles was found to match another bomb discovered a month earlier by a Burns operative in a rail yard in Peoria, Ill. Burns tied the evidence to a campaign of terror against the National Erectors Association, a union-busting alliance of builders. The target of the association's animus was the union shop in general and the Structural Iron Workers Union in particular. John McNamara was the union's secretary-treasurer. His brother James was a union agent. Their weapons against the association and its allies were nitroglycerine and dynamite.
For the full review, see:
D.J. WALDIE. "Bookshelf; Dynamite and Deadlines." The Wall Street Journal (Tues., SEPTEMBER 16, 2008): A23.
(Note: ellipsis added.)
The reference to the book under review, is:
Blum, Howard. American Lightning. New York: Crown Publishers, 2008.