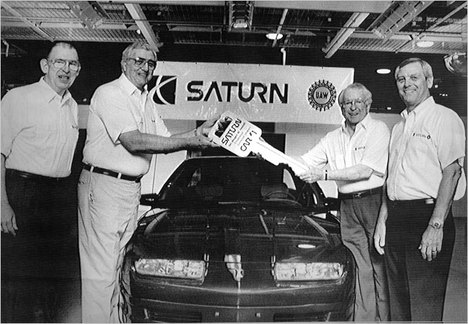 "In July 1990, the first Saturn rolled off the Spring Hill, Tenn., assembly line, with Roger Smith of General Motors holding the key." Source of the caption and the photo: online version of the NYT article quoted and cited below.
Clayton Christensen has shown that incumbent firms find it extremely difficult to adopt disruptive innovations that would leapfrog their current dominant business model. GM's abandonment of its Saturn experiment would seem to be an apt illustration of the point:
(p. A29) "I'm absolutely convinced that the Saturn way could have worked," said Michael Bennett, the original U.A.W. leader at Saturn. "But what we had was never embraced or adopted."

Mr. Bennett, like many others, can point fingers to explain why Saturn fell short of its promise.
Mr. Bennett blamed a lack of interest by G.M. executives who succeeded Roger Smith, who as chief executive in the 1980s committed $5 billion to begin Saturn.
But those who followed him — including John F. Smith Jr., who became chief executive in 1992, and G.M.'s current chief executive, Rick Wagoner, who ran its North American operations in the 1990s — had bigger worries.
They had to lead the company through the financial turbulence at G.M. in the early 1990s. And with managers at G.M.'s other, older brands begging for investment, G.M. executives declared Saturn would have to prove it deserved more support, even though its small cars were accomplishing their main goal of winning buyers from imports.
Despite G.M.'s pledge that Saturn would be run as a separate company, with its own car development and purchasing operations, it was folded into G.M.'s small-car operations in 1994, and its lineup did not receive any new models for the next five years.
For the full story, see:
MICHELINE MAYNARD. "With Saturn, G.M. Failed a Makeover." The New York Times (Thurs., December 3, 2008): A1 & A29.
Christensen's fullest complete expression of his views can be found in:
Christensen, Clayton M., and Michael E. Raynor. The Innovator's Solution: Creating and Sustaining Successful Growth. Boston, MA: Harvard Business School Press, 2003.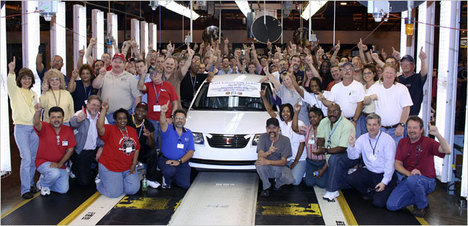 "The final Saturn built at the plant in March 2007." Source of the caption and the photo: online version of the NYT article quoted and cited above.