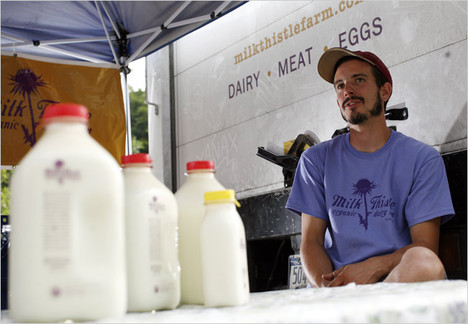 "Dante Hesse, . . . , of Milk Thistle Farm, thinks Greenmarket rules are too hard on dairies." Source of caption and photo: online version of the NYT article quoted and cited below. (Note: ellipsis in caption added.)
(p. D4) The basic aim of the producer-only rules is to ensure that all foods sold at market originate entirely or mostly on family farms within a half day's drive from New York City. The 10-page document detailing these rules, however, is anything but clear.

"Cumbersome, confusing and contradictory," was the assessment of Michael Hurwitz, the director of Greenmarket, which operates 45 markets in the five boroughs.
Pickle makers can sell preserved foods such as peppers in vinegar, but not processed foods such as hot sauce. Farmers, on the other hand, can sell processed hot sauce if it is made with their peppers. Dairies may purchase a higher percentage of their milk for cheese if the cheese is made from one type of milk rather than two milks, such as cow and sheep. Cider makers can buy 40 percent of the apples they press from local farmers, whereas wheatgrass juice sellers must grow all their wheatgrass.
For the full story, see:
INDRANI SEN. "Greenmarket Sellers Debate Maze of Producer-Only Rules." The New York Times (Weds., August 6, 2008): D4.