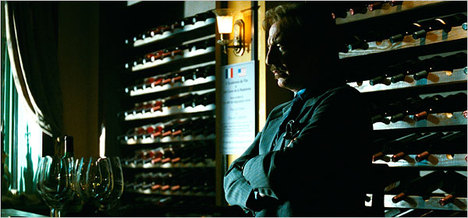 "Alan Rickman portrays Steven Spurrier, the British wine dealer who organized a famous blind wine tasting near Paris in 1976, in Randall Miller's "Bottle Shock."" Source of the caption and photo: online version of the WSJ article quoted and cited below.
Cultural pretension and conspicuous consumption are among the less admirable aspects of human behavior. So the blind wine tasting where California beat France, has always had appeal.
This, plus the inimitable Alan Rickman (aka Snape), put this movie on my "to see" list.
(p. B7) "Bottle Shock," an easygoing little movie, made with more affection than skill, takes us back to the days when men wore loud plaid suits and people who were serious about wine sneered at the very mention of California. Sticking reasonably close to the historical record, the director, Randall Miller (who wrote the screenplay with his wife, Jody Savin, and Ross Schwartz), reconstructs a watershed moment in the wine world's acceptance of the Golden State and, eventually, of many other non-French viticultural regions.

In 1976, at a gathering near Paris, a panel of experts conducted a blind tasting at which two California wines emerged victorious over their more pedigreed French competitors. That tasting provides the climax to "Bottle Shock," and even if the potential surprise of its outcome were not already spoiled by history, the movie's adherence to the clichés of the triumph-of-the-underdog narrative would be enough to remove any doubt.
There are, indeed, at least two underdogs hungering for triumph. The first is Steven Spurrier, played by Alan Rickman, whose parched low voice and air of beleaguered pomposity are never unwelcome.
For the full review, see:
A. O. SCOTT. "Plaid Suits, Prize Grapes and the Rise of Napa." The New York Times (Weds., August 6, 2008): B7.