"Harriet Svensson, left, and Siv Wiik, amateur geologists and berry-picking grandmothers, at the site where they found gold." Source of photo and caption: online version of the NYT article quoted and cited below.
Schumpeter focued on entrepreneurial innovation, while Kirzner focused on entrepreneurial alertness.
The article quoted below, presents a neat example of a couple of Kirznerian entrepreneurs:
(p. A9) OVERTURINGEN, Sweden — It was a lousy blueberry season in 2007, said Siv Wiik, 70, one of a pair of Swedish grandmothers now credited with discovering what experts say may be one of the richest gold deposits in Europe. "That year it was too cold in the spring, so there were few berries," she said.

Berry picking is a serious business to Mrs. Wiik (pronounced VEEK), who was born in this village of 171, and her friend, Harriet Svensson, 69. For 40 years the two, widows with children and grandchildren, have explored every patch of field and forest clearing in the region, hunting for mushrooms and wild berries — blueberries, raspberries, blackberries, cloudberries.
But the women are also amateur geologists. They never leave home for a stroll in forests or fields without their geologists' hammers, with their 30-inch handles, and their magnifying eyepieces, dangling from ribbons around their necks.
So in that terrible August when the blueberry crop failed, they decided to poke around for minerals. They went to a place called Sorkullen, far down an unpaved logging road, where trees had recently been felled, upending the earth and exposing rock to the air. Using their hammers, they cleared soil from around the stones, digging for about six hours, deeper and deeper, until they found a rock with a dull glimmer.
. . .
A huge Swedish lumber conglomerate, S.C.A., owns the land where they found the gold, but not the mineral rights. So they proceeded to obtain the rights for a large area around the find, then entered into negotiations, alone and without lawyers, with about 20 mining companies from Sweden and abroad, finally choosing Hansa Resources, of Vancouver, Canada.
This month, Hansa began boring at the site to obtain samples to send to Vancouver for analysis. "Whether it's gold or not, even with a high-grade ore, you cannot see it with the naked eye," said Anders Hogrelius, project manager for the drilling. "This was a surprise, and I think it's positive, since it shows that it's worthwhile to go outside the traditional mining areas."
The windfall for the women has until now been modest. Hansa paid the women about $125,000 for the mining rights, and if a second round of boring is authorized this fall, the company will pay an additional $225,000. But the women have also been given a 20 percent stake in any future mining activities, which could yield a bonanza for many years to come.
. . .
Mr. Hogrelius, the drilling project manager, said a fully operating mine would bring jobs. "We usually estimate five jobs created in services for every one in the mines," he said. A first estimate of initial investment, he added, comes to about $15 million.
For the full story, see:
JOHN TAGLIABUE. "Overturingen Journal; Barren Berry Season Leads to Far Richer Discovery." The New York Times (Mon., July 13, 2009): A9.
(Note: ellipses added.)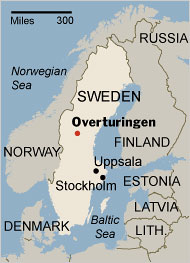 "A mine in Overturingen could provide much-needed jobs." Source of map and caption: online version of the NYT article quoted and cited above.