"A nurse practitioner with a patient at a retail clinic in Wilmington, Del." Source of caption and photo: online version of the WSJ article quoted and cited below.
Clayton Christensen, in a chapter of Seeing What's Next, and at greater length in The Innovator's Prescription, has persuasively advocated the evolution of nurse practitioners and retail health clinics as disruptive innovations that have the potential to improve the quality and reduce the costs of health care.
An obstacle to the realization of Christensen's vision would be government regulation demanded by health care incumbents who would rather not have to compete with nurse practitioners and retail health clinics. See below for more:
(p. B1) Retail health clinics are adding treatments for chronic diseases such as asthma to their repertoire, hoping to find steadier revenue, but putting the clinics into greater competition with doctors' groups and hospitals.

Walgreen Co.'s Take Care retail clinic recently started a pilot program in Tampa and Orlando offering injected and infused drugs for asthma and osteoporosis to Medicare patients. At some MinuteClinics run by CVS Caremark Corp., nurse practitioners now counsel teenagers about acne, recommend over-the-counter products and sometimes prescribe antibiotics.
. . .
As part of their efforts to halt losses at the clinics, the chains are lobbying for more insurance coverage, and angling for a place in pending health-care reform legislation, while trying to temper calls for regulations.
. . .
(p. B2) But such moves are raising the ire of physicians' groups that see the in-store clinics as inappropriate venues for treating complex illnesses. In May, the Massachusetts Medical Society urged its members to press insurance companies on co-payments to eliminate any financial incentive to use retail clinics.
. . .
The clinics are helping alter the practice of medicine. Doctors are expanding office hours to evenings and weekends. Hospitals are opening more urgent-care centers to treat relatively minor health problems.
For the full story, see:
AMY MERRICK. "Retail Health Clinics Move to Treat Complex Illnesses, Rankling Doctors." The Wall Street Journal (Thurs., SEPTEMBER 10, 2009): B1-B2.
(Note: ellipses added.)
A brief commentary by Christensen (and Hwang) on these issues, can be found at:

CLAYTON CHRISTENSEN and JASON HWANG. "How CEOs Can Help Fix Health Care." The Wall Street Journal (Tues., July 28, 2009).
For the full account, see:
Christensen, Clayton M., Jerome H. Grossman, and Jason Hwang. The Innovator's Prescription: A Disruptive Solution for Health Care. New York: NY: McGraw-Hill, 2008.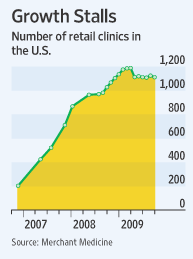 Source of graph: online version of the WSJ article quoted and cited above.