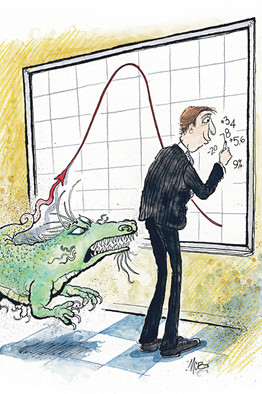 Source of cartoon: online version of the WSJ article quoted and cited below.
(p. C1) Last year, a typical investment portfolio of 60% stocks and 40% bonds lost roughly a fifth of its value. Standard portfolio-construction tools assume that will happen only once every 111 years.

With once-in-a-century floods seemingly occurring every few years, financial-services firms ranging from J.P. Morgan Chase & Co. to MSCI Inc.'s MSCI Barra are concocting new ways to protect investors from such steep losses. The shift comes from increasing recognition that conventional assumptions about market behavior are off the mark, substantially underestimating risk.
. . .
(p. C9) Many of Wall Street's new tools assume market returns fall along a "fat-tailed" distribution, where, say, last year's nearly 40% stock-market decline would be more common than previously thought.
Fat-tailed distributions are nothing new. Mathematician Benoit Mandelbrot recognized their relevance to finance in the 1960s. But they were never widely used in portfolio-building tools, partly because the math was so unwieldy.
For the full story, see:
ELEANOR LAISE. "Some Funds Stop Grading on the Curve." The Wall Street Journal (Tues., SEPTEMBER 8, 2009): C1 & C9.
(Note: ellipsis added.)