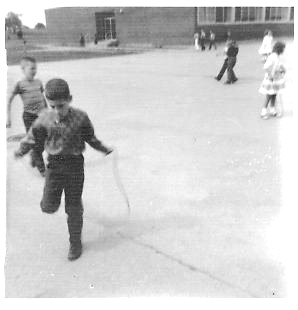 My first and second grade teacher was Miss Helen Kuntz. I had a lot of trouble learning how to jump-rope. So when I finally succeeded, Miss Kuntz was so excited that she took my picture, which she mailed me several decades later from a nursing home. If I had been born and raised in Communist China my life would have been much different.
(p. A1) BEIJING—Chinese parents spend dearly on private tutoring for their children to get a jump on national math and language exams, the gateway to advancement and a better life.

Susan Zhang, a 34-year-old mother in China's capital, is among a smaller group forking out big bucks for jump-rope lessons. She said she couldn't understand why her 6-year-old daughter Tangtang couldn't string together two skips in a row after three months of trying. The girl needed professional help.

More than playground prowess was at stake. In 2014, Chinese authorities introduced physical-education require-(p. A10)ments that included a national jump-rope exam for boys and girls from first through sixth grades.

To pass, students must complete minimum numbers of skips a minute, and failure can trip up an otherwise promising academic trajectory. Top officials see the activity as an accessible, low-cost way to help build national sports excellence, a priority of China's leader Xi Jinping.
For the full story, see:
Jonathan Cheng. "China Exam Draws Jump-Rope Tutors." The Wall Street Journal (Tuesday, Sept. 28, 2021): A1 & A10.
(Note: the online version of the story was updated September 27, 2021, and has the title "In China, Even Jump-Rope is Competitive—So Parents Pay for Lessons." The online edition says that the title of the print version is "Exam Draws Jump-Rope Tutors," but my National print version had the title "China Exam Draws Jump-Rope Tutors.")