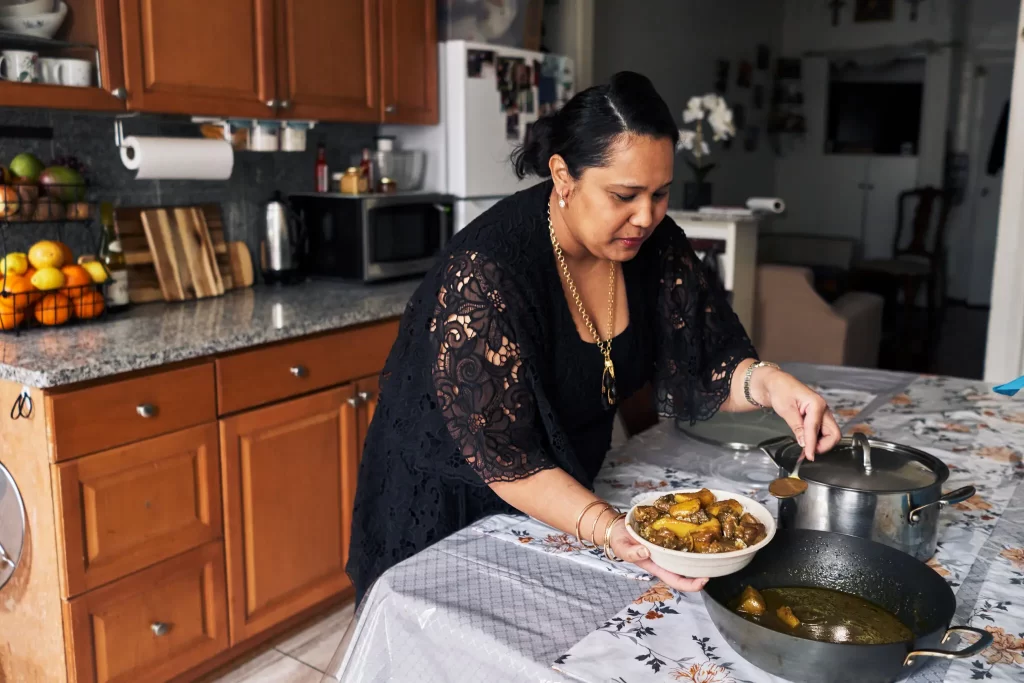 (p. B1) Several days a week, Jullet Achan moves around the kitchen of her apartment in Greenpoint, Brooklyn, stirring up dishes from her Surinamese background: fragrant batches of goat curry, root vegetable soup and her own take on chicken chow mein.

She packages the meals, and they are picked up for delivery to customers who order through an app called WoodSpoon.

"Joining WoodSpoon has made a huge difference during the pandemic, giving me the flexibility to work safely from home and supplement my income," Ms. Achan said in a news release from the company in February.

However, in the state of New York, there are no permits or licenses that allow individuals to sell hot meals cooked in their home kitchens. And WoodSpoon, a three-year-old start-up that says it has about 300 chefs preparing foods on its platform and has raised millions of dollars from investors, including the parent company of Burger King, knows it.

"It's not legally allowed," said Oren Saar, a founder and the chief executive of WoodSpoon, which facilitated the interviews with Ms. Achan and other cooks. "If someone is on our platform and they're selling food they cooked in their own kitchens, that's against our platform policy. But, to be completely honest, we think that those rules are outdated."

Ms. Achan said she had become aware from her own research that cooks were not allowed to sell foods cooked in their homes, but said she continued to do so. "The food needs to be prepared in a clean kitchen, and it needs to be done correctly," she said. "I've been cooking for my family for years, and that's how I prepare meals for my customers."

. . .

(p. B4) Legislation was introduced last year that would allow individuals to sell hot meals from their own kitchens, but it is still pending.

Mr. Saar said WoodSpoon, which started in 2019, couldn't wait for the laws to catch up when the pandemic hit. "With Covid and all of the people who were reaching out to us to work on the platform, all of the people we thought we could work with, it was not right for us to wait to launch," he said.

He estimates that 20 to 30 percent of the chefs on the platform are using licensed commercial kitchens, meaning the bulk are not. He said WoodSpoon helped home cooks obtain the proper permits and licenses, provided safety training and inspected the kitchens, but ultimately the onus is on the individuals selling on the platform to follow the proper rules. A spokesman later added in an email that the company was working to make commercial kitchens available to its chefs.

"We are ahead of the regulators, but as long as I keep my customers safe and everything is healthy, there are no issues," Mr. Saar said. "We believe our home kitchens are safer than any restaurants."

When asked if WoodSpoon would remove any chefs it knew were cooking from kitchens in their homes, Mr. Saar demurred, saying, "It was a good question." He noted that many of WoodSpoon's cooks prepared and sold foods on social media and competing food platforms, like Shef.
For the full story, see:
Julie Creswell. "Illegally Delicious. Probably." The New York Times (Monday, April 18, 2022): B1 & B4.
(Note: ellipsis added.)
(Note: the online version of the story has the date April 10, 2022, and has the title "The Home Cooks (and Start-Ups) Betting on Prepared Meals.")