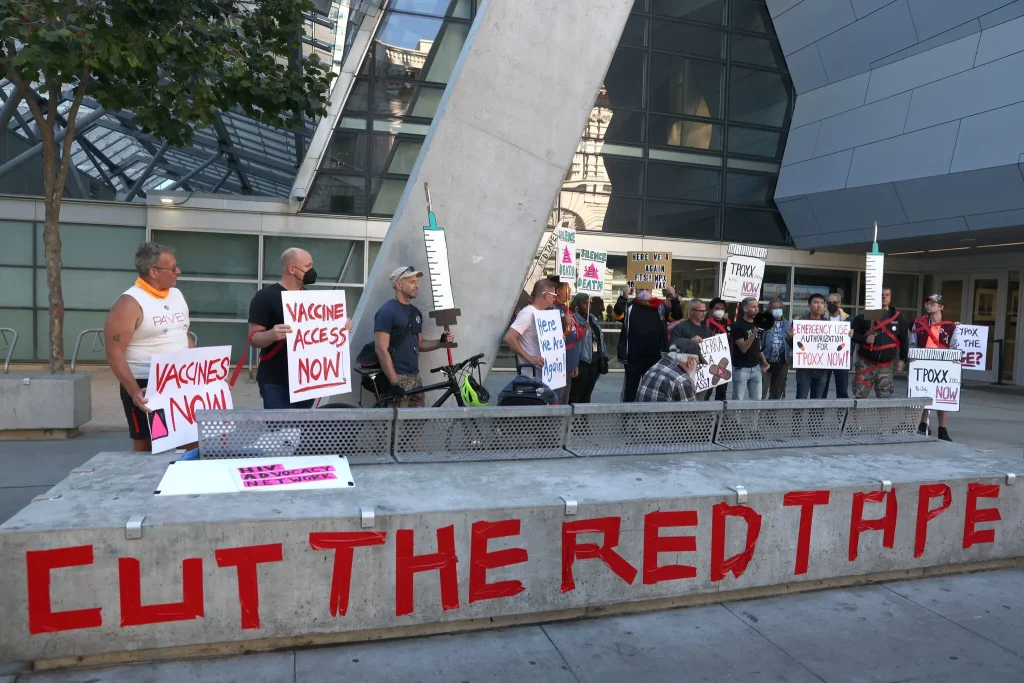 (p. A1) Roughly 5,000 doses of monkeypox vaccine intended for Fort Lauderdale, Fla., left the national stockpile's warehouse in Olive Branch, Miss., on July 19 [2022]. They somehow ended up in Oklahoma.

Then Tennessee. Then Mississippi again. Then, finally, Florida.

In Idaho, a shipment of 60 vaccine doses disappeared and showed up six days later, refrigerated rather than frozen, as needed. Another 800 doses sent to Minnesota — a significant portion of the state's total allotment — were unusable because the shipment was lost in transit for longer than the 96-hour "viability window."

The federal government's distribution of monkeypox vaccine has been blemished by missteps and confusion, burdening local officials and slowing the pace of immunizations even as the virus spreads, according to interviews with state health officials and documents obtained by The New York Times.

Officials in at least 20 states and jurisdictions have complained about the delivery of the vaccine, called Jynneos. (More than half are led by Democrats, including California, Washington, Connecticut and Michigan, suggesting that their grievances are not politically motivated.)

"This is happening everywhere," said Claire Hannan, exec-(p. A17)utive director of the Association of Immunization Managers, a nonprofit group that represents state, local and territorial officials.

"Our response is completely inefficient and breaking the back of state and local responders," she added. Ms. Hannan said she had never "seen this level of frustration and stress."

. . .

. . . Jynneos is being disbursed from the National Strategic Stockpile by a different government agency under the Department of Health and Human Services. That agency was never set up to take ongoing orders, arrange deliveries from the stockpile, track shipments or integrate with state systems.

Instead, the stockpile was designed to deliver massive amounts of vaccine to each state in response to a catastrophic event, according to a federal official with knowledge of the stockpile's operations.
For the full story, see:
Apoorva Mandavilli. "States Blame Federal Mix-Ups As Monkeypox Shots Are Lost." The New York Times (Tuesday, August 16, 2022): A1 & A17.
(Note: ellipses, and bracketed year, added.)
(Note: the online version of the story has the date Aug. 15, 2022, and has the title "'Frustration and Stress': State Officials Fault Rollout of Monkeypox Vaccine.")