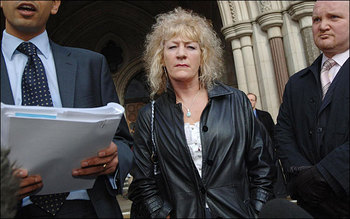 Ann Marie Rogers at High Court in London on Wed., Feb. 15, 2006. Image source: online version of NYT article quoted and cited below.
(p. A6) LONDON, Feb. 15 — When her local health service refused to treat her breast cancer with the drug Herceptin, 54-year-old Ann Marie Rogers sued. But on Wednesday, a High Court judge ruled against her.
In his decision the judge, David Bean, said that although he sympathized with Ms. Rogers's predicament, the health service in Swindon, where she lives, had been justified in withholding the drug.
"The question for me is whether Swindon's policy is irrational and thus unlawful," Justice Bean wrote. "I cannot say it is."
The ruling has potentially serious implications for patients across the taxpayer-financed National Health Service.
Despite health officials' contention that decisions about treatment are based solely on clinical effectiveness, critics contend that with drugs growing ever more expensive, cost has become an increasingly important factor. They also say patients are at the mercy of the so-called postcode lottery, in which treatments are available in some postal zones but not others.
For the full story, see:
SARAH LYALL. "British Clinic Is Allowed to Deny Medicine; Decision on Cost Has Broad Impact." The New York Times (Thurs., February 16, 2006): A6.