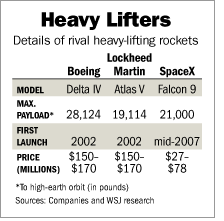 Source of table: online version of WSJ article cited below.
EL SEGUNDO, Calif. — Maverick entrepreneur Elon Musk, who says he is prepared to spend nearly $200 million of his personal fortune creating a family of low-cost, reusable rockets, recently landed an unexpected customer: the U.S. intelligence community.
Mr. Musk and his fledgling company, closely held Space Exploration Technologies Corp., for years worked on advanced technologies and less-expensive manufacturing concepts to build small rockets capable of launching commercial or government satellites weighing around 1,000 pounds.
But the new contract for a single, classified launch — shrouded in such secrecy that neither the spy agency nor specific type of satellite was identified — envisions construction of a massive rocket by Mr. Musk's company, known as SpaceX. The launch vehicle is slated to be comparable to the largest, most powerful models built by Boeing Co. and Lockheed Martin Corp., but costing a fraction of the prices charged by the rocket-industry leaders
. . .
Mr. Musk doesn't minimize the challenge of trying to win more government business while criticizing government procurement practices. "I think it's extremely risky," he says of his overall strategy, "but we've got to fight for our right to win customers." If development of simpler, less-costly rocket alternatives is left to major defense contractors, he argues, "I can assure you it will never, never happen."
. . .
In spite of skepticism and criticism of SpaceX, industry leaders are keeping a wary eye on Mr. Musk, with some vowing stepped-up competition against the industry newcomer.
Tom Marsh, a senior Lockheed Martin space official, told a space conference last month that his company "absolutely intends to pursue, and to pursue vigorously" the market for smaller rockets initially targeted by SpaceX.
ANDY PASZTOR. "For Rocket Start-Up, Sky's the Limit; Surprise Contract Boosts SpaceX as It Competes With Boeing, Lockheed." THE WALL STREET JOURNAL (Thurs., September 15, 2005): B6.