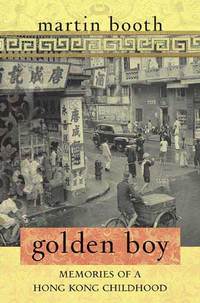 Source of book image: http://www.holtzbrinckpublishers.com/stmartins/Search/SearchBookDisplayLarge.asp?BookKey=3008997
Here is an excerpt from a review of a posthumously published memoir, by a well-known British author, recounting three years of childhood in the Hong Kong of the early 1950s:
(p. B12) He has written an extraordinarily happy book, filled with hilarious set-pieces and pulsating with Hong Kong's vibrant street life. Unlike monochrome Britain, with its dull diet and pinched economy, Hong Kong offered color, variety and adventure.
. . .
Most of Mr. Booth's encounters were curious rather than dramatic, like the incident of the plink-plonk man, a street musician with a monkey outfitted like a mandarin from the Ming dynasty. One day, as Martin watched, the monkey managed to bite through his leather leash. In a flash, he was up a tree, where, ignoring his master's pleading and cursing, he carefully disrobed and flung his costume to the street below. Then, in one magnificent act of repudiation, he sent a perfectly aimed stream of urine down on the man's upturned face, to the delight of the crowd that had gathered. Where in England could you see that?
WILLIAM GRIMES. "Books of The Times: Hong Kong Is Fantasy Land for a Young Adventurer." The New York Times (Weds., December 21, 2005): B12.
(Note: ellipsis added.)
Information on the book reviewed:
Martin Booth. Golden Boy: Memories of a Hong Kong Childhood. St. Martin's Press, 2005. (342 pages. $25.95.)