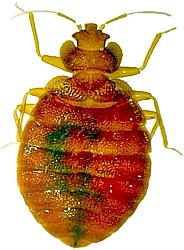 Image source: http://www.suburbanchicagonews.com/heraldnews/top/4_1_JO02_BEDBUGS_S1.htm
(p. 1) . . . bedbugs, stealthy and fast-moving nocturnal creatures that were all but eradicated by DDT after World War II, have recently been found in hospital maternity wards, private schools and even a plastic surgeon's waiting room.
Bedbugs are back and spreading through New York City like a swarm of locusts on a lush field of wheat.
. . .
In the bedbug resurgence, entomologists and exterminators blame increased immigration from the developing world, the advent of cheap international travel and the recent banning of powerful pesticides. Other culprits include the recycled mattress industry and those thrifty New Yorkers who revel in the discovery of a free sofa on the sidewalk.
For the full story, see:
ANDREW JACOBS . "Just Try to Sleep Tight. The Bedbugs Are Back." The New York Times Section 1 (Sun., November 27, 2005): 1 & 31.
(Note: ellipses added.)