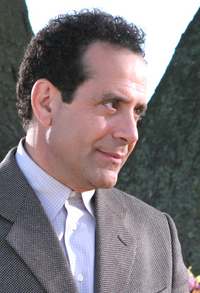 Source of image: http://www.usanetwork.com/series/monk/theshow/characterprofiles/tony/index.html#
"Monk" and "House" on the USA Network present suspenseful plots, and intelligent dialogue. But, more importantly, they present unusual "characters" for television: Monk and House are primarily concerned, not with their social standing or sex life, but with getting important jobs done–for Monk, solving murders, for House, curing diseases. One possible moral: maybe it's OK to be intense in the service of a good cause?
An episode of "Monk," in which the title character — an obsessive-compulsive private eye played by Tony Shalhoub, below — suffered amnesia after a blow to the head, was the most-watched show on advertiser-supported cable for the week that ended Jan. 22, with an audience of 6 million. USA Network, where "Monk" lives, was again the No. 1 basic-cable channel in prime time for that week. USA is also benefiting from reruns of the Fox medical show "House," which it began broadcasting earlier in the month: the "House" that ran after "Monk" on Jan. 20 attracted 3.79 million viewers.
Source:
KATE AURTHUR. (sic) "Arts, Briefly; 'Monk' Strong on Cable." The New York Times (Mon., January 30, 2006): E2.