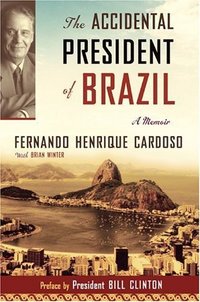 Source of image of book: http://www.amazon.com/gp/product/1586483242/qid=1145298612/sr=2-1/ref=pd_bbs_b_2_1/104-9985403-1047968?s=books&v=glance&n=283155
Fernando Cardosa is the former Brazilian President who is best known for having temporarily tamed Brazil's runaway inflation. Although not a principled believer in the free market, Cardoso made some efforts to reduce the damage the Brazilian government was doing to the economy. The following startling passage is from a useful review of a new memoir by Cardoso:
. . . , Mr. Cardoso mentions a telling moment at a 1999 summit meeting in Havana. When the heads of state were alone at a luncheon, one said to Castro: "Damn it Fidel! What are you going to do about this lousy, piece-of-**** island of yours? We're sick of apologizing for you all the time, Fidel. It's getting embarrassing." The anecdote shows how disingenuous Latin governments can be when they remain silent about the Cuban dictatorship.
For the full review, see:
MARY ANASTASIA O'GRADY. "A Leader Who Got Real." The Wall Street Journal (Thurs., April 6, 2006): D8.
(Note: ellipsis added.)
Here is the full reference to Cardoso's memoir:
Cardoso, Fernando Henrique. The Accidental President of Brazil: A Memoir. PublicAffairs, 2006. [with Brian Winter; 291 pages; $26.95]