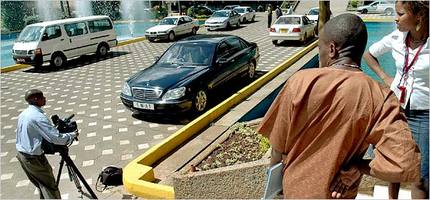 The relatively modest vehicle of Francis Ole Kaparo, the speaker of Kenya's National Assembly, contrasts with other Kenyan lawmakers' "Mercedeses, Land Rovers and other typically sleek rides." Source of photo: the online version of the NYT article cited below.
NAIROBI, Kenya, May 21 — It has been a trying year in Kenya, one of the worst in decades, as a severe drought killed off crops and cattle and left millions with empty stomachs and uncertain futures.
In such suffering, members of Parliament have been roused to action as seldom before, finding common ground on an issue so pressing that they threatened to stonewall the budget until it was addressed: another big increase in their compensation.

The move last month to reward themselves in a time of crisis infuriated Kenyan voters, most of whom eke out a living on a fraction of what their elected officials earn. It also reinforced the notion that this was a political drought, one that owed its origins as much to mismanagement in a country that should be able to feed itself as to the vagaries of nature.

. . .

. . . , some say legislators have lost touch with the poor districts they represent. Per capita income is about $463 a year, which nobody here would expect a lawmaker to survive on. Minimum wage is $924 a year, still far too little, in most Kenyans' view, for someone taking care of the nation's business.

But the base compensation that legislators earn is about $81,000 a year, tax free, plus a variety of allowances and perks, which can effectively double their take-home pay. That means those public servants earn more than most Kenyan corporate executives and outstrip the salaries of many of their counterparts in the developed world.

"They are behaving like we are rich and as if there's no famine and poverty in the country," Maina Kiai, the chairman of the Kenya National Commission of Human Rights, complained recently to the newspaper The Daily Nation. "They want to make as much money as they can."

The latest increase, which cost the country $2.78 million, nearly doubled the mileage allowances that lawmakers receive for their Mercedeses, Land Rovers and other typically sleek rides.
For the full story, see:
MARC LACEY. "Nairobi Journal; Crisis Swirls in Kenya, and Politicians Reward Themselves." The New York Times (Mon., May 22, 2006):