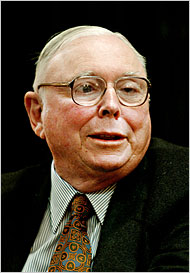 Charlie Munger. Sourge of image: online version of the NYT article cited below.
CHARLES T. MUNGER, Warren E. Buffett's partner and one of the smarter thinkers on the planet, had few kind words for money managers at the recent annual meeting of his company, Wesco Financial.

"I regard the amount of brainpower going into money management as a national scandal," he said. He later recalled a story told when he was a child in Texas: "When some idiot would get rich, they'd say, 'Well, old Charlie was out in the field playing the big brass tuba on the day it rained gold.' A lot of people have become rich lately who were playing the tuba on the day it rained gold."

Lately, though, it has been raining lead on the tuba players.
For the full commentary, see:
JENNY ANDERSON. "Insider; Hey, You Have a Problem Paying Alpha Fees and Getting Beta Returns?" The New York Times (Fri., May 26, 2006): C7.