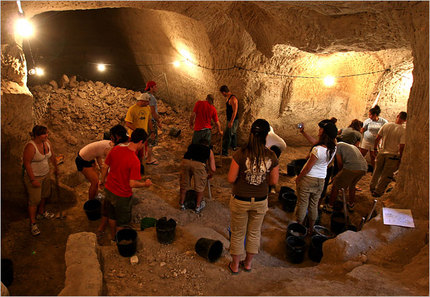 In the "Dig for a Day" program, participants pay $25.00 to spend three hours helping to excavate a Tel Maresha cave. Source of the image: the online version of the NYT article cited below.
While most archaeological excavations require hundreds of thousands of dollars, Mr. Alpert said, this one is unusual because it is self-supporting. "We have the people working and paying for the work, which has proven itself archaeologically and from a tourism standpoint," he said. "That's why we are able to dig for so long." The Maresha excavation is licensed by the Israeli Antiquities Authority, and reports are submitted each year to evaluate its scientific contribution.

"This is the ultimate chutzpah," said Ian Stern, another of the company's three owners, who has a doctorate in archaeology and emigrated to Israel from New Jersey (the third owner is Asher Afriat, a historian and native Israeli). "We are providing the public with an active educational experience, while they do the work. Their money underwrites the excavation and is used for all the follow-up of putting the pottery together, registering and photographing the finds, and writing the scientific reports."
For the full story, see:
CAREN OSTEN GERSZBERG. "Family Journeys; Israel; Amateur Archaeologists Get the Dirt on the Past." The New York Times, Section 5 (Sun., July 16, 2006): 11.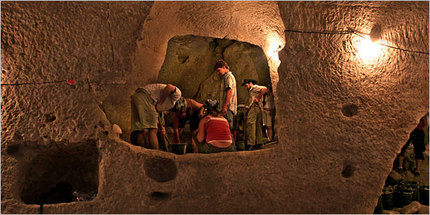 Amateur archaeologists excavate a cave. Source of the image: the online version of the NYT article cited above.