Source of book image: http://www.mactime.ru/Environ/WebObjects/mactime.woa/2/wa/Main?textid=6114&level1=mactimes&wosid=b2qk07iEkIh6GoutH7IbVg
Many scholars interpret Schumpeter as believing that large firms would increasingly become the main source of innovation. Scherer, Christensen, and many others, have provided plenty of reason to doubt this belief. Here is another reason, from one of the innovators who helpted bring us the personal computer:
What emerges in "iWoz" is a chatty memoir full of surprises. Yes, Mr. Wozniak cherishes workbench minutiae, such as his tips for connecting circuitry wires. But he also sees this book as a chance to cut through cliché and explain himself to a larger audience. He reveals a technology pioneer who is more charming and annoying — and whose life is more poignant — than we expected.

. . .

As Apple roared ahead, going public in 1980 and then becoming one of the 500 largest U.S. companies, Mr. Wozniak's golden moment came to an end. New products weren't developed anymore by a brilliant prankster working with barely any sleep. There were now teams, committees and market studies.

Mr. Wozniak by his own account didn't like these changes, and he didn't want to rise into senior management. He hung on at Apple as a lone engineer — and he says he still collects a tiny paycheck from the company — but from the mid-1980s onward turned his attention to other things.

. . .

Fortunately, Mr. Wozniak finishes strong. In his final chapter, he offers a bit of advice to gifted engineers: "Work alone." Big companies tend to stifle innovation, he explains. It's lonely and risky to work solo. No matter. "Man, it will be worth it in the end," he writes. His life bears out the truth of that simple claim.
For the full review, see:
GEORGE ANDERS. "BOOKS; Technostalgia; Steve Wozniak looks back on the computer revolution and his role as Apple's co-founder." Wall Street Journal (Sat., September 30, 2006): P8.
(Note: ellipses added.)
The reference to the book by Wozniak:
Steve Wozniak, with Gina Smith. iWoz Norton, 2006. 313 pages, $25.95.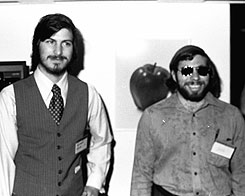 Steve Jobs at left, and Steve Wozniak at right, in San Francisco in 1977. Source of photo: online version of the WSJ article cited above.