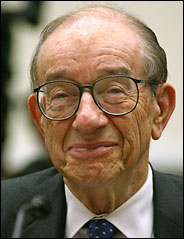 Why is this man smiling? (Alan Greenspan has reason to grin.) Source of photo: online version of the NYT article cited below.
I believe that the market for economists is imperfectly competitive, since the supply and demand for academics is highly regulated by governmental and quasi-governmental institutions. But it is interesting that the second highest book advance ever paid is going to Alan Greenspan. Greenspan is a practical, eclectic, economist who believes that Schumpeter's process of creative destruction is important for understanding the workings of a capitalist economy.
(p. C1) Alan Greenspan, the former chairman of the Federal Reserve, has agreed to sell his memoir for an advance of more than $8.5 million, according to people involved in the negotiations, making a deal that appears to give him the second-largest advance ever paid for a nonfiction book.

. . .

(p. C8) Mr. Greenspan's advance ranks second only to the more than $10 million paid to former President Bill Clinton for his memoir, "My Life," which was published in June 2004. Pope John Paul II received an advance of $8.5 million in 1994 for his book, "Crossing the Threshold of Hope," and Senator Hillary Rodham Clinton received an $8 million advance for her memoir, "Living History," published in 2003.
For the full story, see:
EDWARD WYATT. "Greenspan's Book Deal Is Said to Be Among the Richest." The New York Times (Weds., March 8, 2006): C1 & C8.