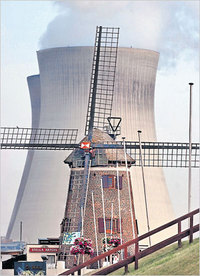 The Belguim windmill looks nice, but the electiricty is produced by the nuclear plant in the background. Source of photo: online version of the NYT article cited below.
The latest word on energy, from the 2006 World Economic Forum at Davos, Switzerland:
. . . nuclear energy is suddenly back on the agenda — and not just here. Spurred on by politicians interested in energy independence and scientists who specialize in the field of climate change, Germany is reconsidering a commitment to shut down its nuclear power plants. France, Europe's leading nuclear power producer, is increasing its investment, as is Finland.

At a time when industrialized countries are wrestling with how to curb carbon dioxide emissions, nuclear energy has one indisputable advantage: unlike coal, oil, natural gas, or even biological fuels, it emits no carbon dioxide. That virtue, in the view of advocates, is enough to offset its well-documented shortcomings.

"It has put nuclear back into the mix," said Daniel C. Esty, director of the Center for Environmental Law and Policy at Yale University. "We're seeing a new balancing of the costs and benefits."
For the full commentary, see:
MARK LANDLER. "Europe's Embrace; With Apologies, Nuclear Power Gets a Second Look." The New York Times, Section 4 (Sun., January 28, 2007): 3.
(Note: ellipsis added.)