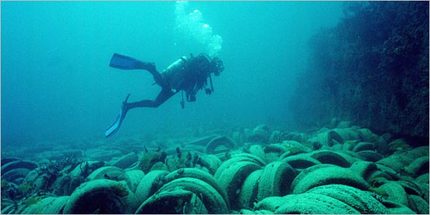 Tire reef deposited in 1972 near the coast of South Florida will be expensive to remove. Source of photo: online verison of the NYT article quoted and cited below.
As we listen to the doom scenarios of environmentalists about global warming, we should ponder the evidence that, decades later, we sometimes learn that environmentalist proposals can be bad for the environment.
(p. 23) "The really good idea was to provide habitat for marine critters so we could double or triple marine life in the area; it just didn't work that way," said Ray McAllister, a professor of ocean engineering at Florida Atlantic University who was instrumental in organizing the project. "I look back now and see it was a bad idea."

. . .

Gov. Charlie Crist's budget includes $2 million to help remove the tires. The military divers would work at no cost to the state by making it part of their training.

A monthlong pilot project is set for June. The full-scale salvage operation is expected to run through 2010 at a cost to the state of about $3.4 million.

. . .

"We've literally dumped millions of tires in our oceans," said Jack Sobel, an Ocean Conservancy scientist. "I believe that people who were behind the artificial tire reef promotions actually were well-intentioned and thought they were doing the right thing. In hindsight, we now realize that we made a mistake."
For the full story, see:
"Tires Meant to Foster Sea Life Choke It Instead." The New York Times, Section 1 (Sun., February 18, 2007): 23.
(Note: ellipses added.)