(p. B10) When Virginia-based vintner Juanita Swedenburg discovered Prohibition-vintage laws prevented her from mailing cases of wine to customers in New York, she decided to make a federal case of it.

"I was furious, never so cross, as cross as I can get," Ms. Swedenburg told the Washington Post in April 2005. A month later, the Supreme Court ruled 5-4 in Swedenburg v. Kelly that a New York law preventing wine sales across state lines was unconstitutional.

. . .

To Ms. Swedenburg, it was a matter of principle, not peddling more vino, says her son, Marc Swedenburg. She shut down her mail-order business when she filed suit in 2000, to ensure she wasn't violating the law. The family winery still does very little mail-order sales.

Ms. Swedenburg's day before the nation's high court was set in motion in the early 1990s, when lawyer Clint Bolick of the Institute for Justice, a Washington D.C.-based libertarian law firm, stopped by her Middleburg, Va., tasting room. There, he discovered "a chardonnay with the toastiest nose I can remember," Mr. Bolick wrote in his book "David's Hammer" (2007), which includes Ms. Swedenburg's story in an anthology of David vs. Goliath tales. Mr. Bolick and Ms. Swedenburg got to talking, he writes, "When I told her that, among other things, I challenged regulatory barriers to entrepreneurship, she exclaimed, 'Have I got a regulation for you!' "

. . .

Ms. Swedenburg expressed regret that her husband didn't see her constitutional arguments prevail. "He never made fun of me for doing something as foolish as this. Some men would say, 'What are you getting into all this foolishness for?' Not him," she told the Washington Post. "He would always be very quiet when I'd go off on my rampage about the situation." The decision in her favor was rendered on May 16, 2005, the first anniversary of his death. Ms. Swedenburg was still bouncing around on her tractor days before her death at age 82 on June 9 in Middleburg.
For the full story, see:
STEPHEN MILLER. "REMEMBRANCES; Juanita Swedenburg (1925 – 2007); Passionate Winemaker Won Fight To Sell Product Across State Lines." The Wall Street Journal (Sat., June 16, 2007): A6.
(Note: ellipses added.)
The reference for the Bolick book, is:
Bolick, Clint. David's Hammer: The Case for an Activist Judiciary. Washington D.C.: Cato Institute, 2007.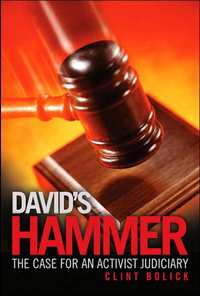 Source of book image: http://images.barnesandnoble.com/images/12270000/12274961.jpg