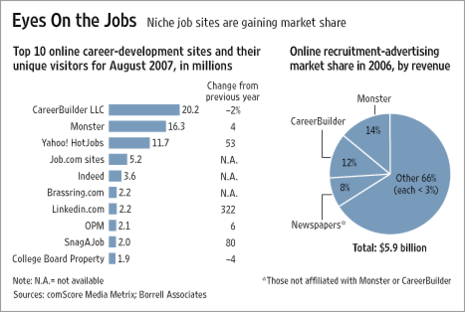 Source of graphic: online version of the WSJ article excerpted and cited below.
Among the hottest Web sites of the past few years were job-search sites such as CareerBuilder.com and Monster.com. Helped by lavish advertising, they became household names. Newspapers, eager to tap the fast-growing online-ad market, teamed up with them.

Now, the hottest names in online recruitment are increasingly specialized job sites. That poses a threat to the growth prospects of the broad-based online job boards and their newspaper partners, analysts said.

In August, the number of unique visitors to CareerBuilder — which is jointly owned by Gannett, Tribune, McClatchy and Microsoft — dropped 2% to 20.2 million, while Monster.com's traffic rose 4% to 16.3 million visitors.

By contrast, technology-focused Dice.com saw its traffic jump 34% to 998,000. At Healthcaresource.com, which posts health-care jobs, traffic rose 36%.
For the full story, see:
EMILY STEEL. "ADVERTISING; Job-Search Sites Face a Nimble Threat Online Boards Become Specialized, Threatening Web-Print Partnerships." The Wall Street Journal (Tues., October 9, 2007): B10.