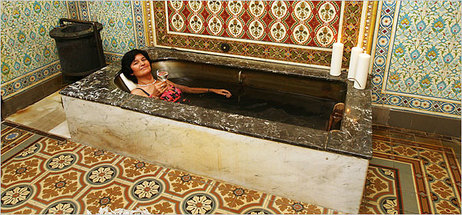 King Edward's suite is enjoyed by Münster, Germany resident Henriette Heussner. Source of photo: online version of the NYT article quoted and cited below.
(p. A4) MARIANSKE LAZNE, Czech Republic — Anybody with a little cash in this quaint and quiet spa town can take a bath fit for a king.

Edward VII of Britain visited this bucolic corner of Bohemia six times during his short reign and each time took a bath in the Royal Cabin, as his private bathroom at the Nove Lazne hotel is still called. For about $45, you can, too.

. . .

King Edward's Royal Cabin, a spacious Turkish-bath-style suite, is outfitted with a metal alloy tub and a medieval-looking oaken chair that serves as a toilet and a scale.

. . .

The windows are as delicately painted as a church's stained glass, and the walls richly decorated with a tropical mural, just as they were in Edwardian days. Angels wearing miters look down from the ceiling.

Lying in the bath, staring up at the same blue parrot that King Edward surely contemplated on the opposite wall, one cannot help musing on the sameness of princes and paupers and those who are somewhere in between.

Tiny bubbles like the carbonation on a soda straw collect on the skin, and larger bubbles percolate around the bather, producing a peculiarly pleasant sensation.

An archaic water heater in a corner of the room clanks contentedly, keeping the bath at what the hotel staff call an "optimal" 97 degrees. The smell of the water is sulfuric and slightly metallic.

Much history and many baths have passed since the king bathed here. In the end, everyone grabs the same metal handle that he did to hoist himself up and out of the tub.
For the full story, see:
CRAIG S. SMITH. "MARIANSKE LAZNE JOURNAL; This Year at Marienbad, They're Still Taking the Waters." The New York Times (Tues., July 3, 2007): A4.
(Note: ellipses added.)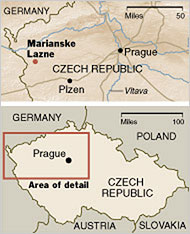 Source of maps: online version of the NYT article cited above.