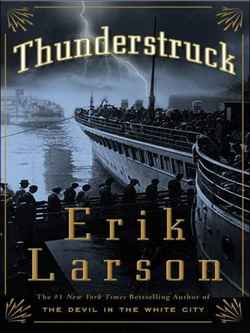 Source of book image: http://palmaddict.typepad.com/photos/uncategorized/big_larsonthunderstruckdrm_1.jpg
Larson's book plays off a murder mystery against Marconi as the innovator who brought us communication through the air.
I'm most enthused about hte Marconi part. It shows how he proceeded against the theorists of the day, whose theories told them that what he was trying to do was impossible. He was more entrepreneur, than scientist. And it turned out that it was a good thing that the theoretical scientists did not rule, as they might if all decisions about technology were made by the government.
What happened here is an example of what Taleb would call a Black Swan.
Source:
Larson, Erik. Thunderstruck. New York: Crown, 2006.