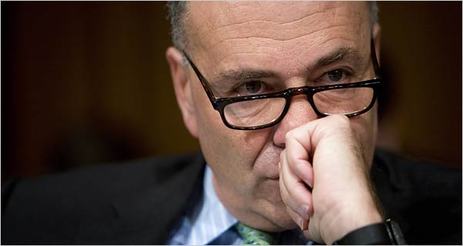 Hedge fund defender, and recipient of hedge fund donations, Democratic Senator Charles E. Schumer. Source of photo: online version of the NYT article quoted and cited below.
The story quoted below, reminds me of a story I told earlier about the famous democratic economist John Kenneth Galbraith ridiculing the wealth of Republicans.
Schumer's behavior exemplifies the "public choice" theory of economics that suggests that the motives of politicians will generally be similar to the motives of the rest of us. In other words, incentives often matter.
(p. A1) WASHINGTON, July 29 — June was a busy month for Senator Charles E. Schumer. On the phone, at large parties and small gatherings around the nation, he raised more than $1 million from the booming private equity and hedge fund industries for the Democratic Senatorial Campaign Committee, of which he is chairman.

But there is another way Mr. Schumer has been busy with hedge fund and private equity managers, an important part of his constituency in New York. He has been reassuring them that he will resist an effort led by members of his own party to single out the industry with a plan that would more than double the taxes on the enormous profits reaped by its executives.

Mr. Schumer has considerable say on the issue. In addition to being the third-ranking Democrat in the Senate leadership, he is the only Democrat serving on both of the major committees, Banking and Finance, that have jurisdiction in the matter.

He has long been a pro-business Democrat and a fund-raising machine for the party, as well as a vociferous supporter of Wall Street issues in Washington, much the way Michigan lawmakers defend the auto industry and Iowa politicians work on behalf of corn farmers.

But in the case of the tax proposals, the strategy behind Mr. Schumer's efforts is putting to the test another set of principles he is known for. He has regularly portrayed himself as a progressive politician who identifies with the struggles of the middle class and is sharply critical of the selfish "plutocrats" who he says control the Republican Party.
For the full story, see:
RAYMOND HERNANDEZ and STEPHEN LABATON. "In Opposing Tax Plan, Schumer Breaks With Party." The New York Times (Mon., July 30, 2007 ): A1 & A14.