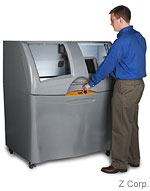 "Lower-price 3-D printers like this one from Z Corp. are spawning new businesses." Source of caption and photo: online version of the WSJ article quoted and cited below.
Neil Gershenfeld has argued that in the not-too-distant-future, ordinary people will have the ability fabricate objects of their own design, in their own home. His lab at MIT has been developing prototypes to fulfil this vision. The 3-D printers discussed in the article quoted below, are the earliest exemplars of this vision, to make it to the market.
If this vision is realized, the benefits to consumers could be immense, in terms of variety of products, speed in obtaining products, and consumer control over what is consumed.
(p. B1) The expansion by 3-D printers into manufacturing is happening thanks to a steady drop in the price of printers, improvements in the materials they can handle and a proliferation in the amount of 3-D data that can be turned into objects.

Historically, the printers cost hundreds of thousands of dollars and were made by a handful of small companies including Z Corp. and Stratasys Inc. But now those and other new companies are producing more-affordable machines priced below $20,000, a change that has radically expanded sales.

The 3-D printing industry is about 20 years old, and in the past two years alone, it has sold around 8,000 machines, or 36% of the industry's two-decade world-wide sales total of 22,000, according to consulting firm Wohlers Associates.

And sales are likely to increase further: A Pasadena, Calif., venture called Desktop Factory Inc. has already taken 350 pre-orders for a $5,000 3-D printer it plans to roll out next year, says Cathy Lewis, CEO of the company. About 40% of those orders are from universities and 35% from small businesses, she says. The company predicts printers could start finding their way into homes in five years or so.
For the full story, see:
ROBERT A. GUTH. "How 3-D Printing Figures To Turn Web Worlds Real." The Wall Street Journal (Weds., December 12, 2007): B1.
The reference to the Gershenfeld book is:
Gershenfeld, Neil. Fab: The Coming Revolution on Your Desktop–from Personal Computers to Personal Fabrication. New York: Basic Books, 2005.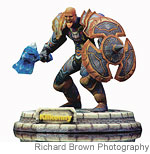 "World of Warcraft figure made with a 3-D printer." Source of caption and photo: online version of the WSJ article quoted and cited above.